South African Brand 'Steri Stumpie' Goes 007?
South African cult brand for flavored milk Steri Stumpie introduced its new vanilla flavor in 007 style. Their dedicated fan base and influencers accepted the Bond-ish secret mission.
In context? You can probably imagine that a brand like Steri Stumpie does not have access to Skyfall budgets, like Coca Cola, Heineken or Sony have.
Steri Stumpie turned towards a strategy ignited by complelling content, buzz and outreach, owned and earned media, tactics we we more often see from cool brands with smaller budgets. Earning attention for a new product, it can be started bottom-up.
Steri Stumpie reached out to fans it had already established relationships with and the fans that had already participated in previous activities. Including the influencers that were following Steri Stumpie on Twitter.
The chosen ones received a very sketchy invitation: To meet us, be at a specific bench at a specific time in this park in Cape Town. They way that secret agents are usually briefed by their HQ.
Once the influencers arrived on the secret location at the park, they got their assignments. See the video to discover what happened next: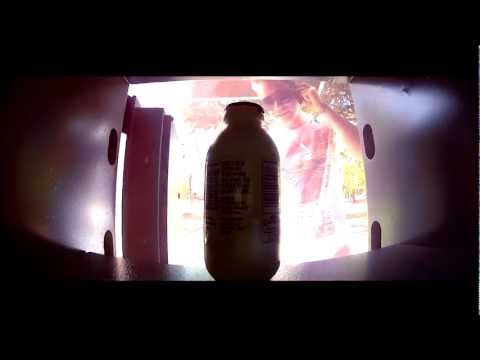 My Opinion?
Vanilla flavored milk; It's certainly not the most adventurous or high involvement product on earth. The budget available, not a gazillion GRPs.
Nevertheless the espionage approach made something special out of something 'not so special'. The campaign even trended locally on Twitter and reached over 300.000 people across several social channels in the first views days.
I feel that Steri Stumpie did a good job, with a continuous way of light-hearted and entertaining branding, that not only tries you to taste their new product, and it is also putting a smile on people's faces.
About the ideation and creativity? Clever, well done by The Work of Society, part of the King James Group.
The 58.000 active and loyal fans on Facebook and the Twitter followers? Steri Stumie is frequently surprising them with treats, scoops, cool content and unexpected guerrilla campaigns.
So the brand seems to keep building towards being a cool or cult brand. And let's be honest; Not too many dairy brands are giga guerrilla, ultra unique or extremely entertaining.

What About You?
What did you think of the campaign or Steri's approach towards social marketing? We would love to read your opinion in the comments below.

Follow & Share
More remarkable stuff? Select our category Remarkable & Gossip. Follow Igor Beuker on Twitter or subscribe to our RSS Feed.