2013 And Beyond: The Social Media Revolution
We felt it was time to look at the revolution in social media. In this article you will read what the big trends will be in social media for 2013.
We already know that social media is not an island in the bigger marketing mix. Using social media has switched from being an optional to being an essential part of overall marketing strategy. For 2013, it is expected that more and more businesses and brands will incorporate social media channels into their day-to-day operations.
Also, instead of having a separate social media department, they will let the use of different social platforms integrate into the entire company. We're already seeing Pinterest, Facebook, and Instagram doing more to accommodate brands and businesses. How exactly are they doing this?
Pinterest
Pinterest recently launched business pages and tools. These accounts are not that different from personal Pinterest pages, but the sole fact Pinterest is launching features that can help brands tells us the platform is looking for other ways to monetize their services.
E-commerce
E-commerce can play a big part when it comes to monetizing social media platforms. The Fancy (and probably Pinterest in the future) is leading the way to incorporating the possibility to directly buy things you see and like within any social medium. Facebook is also experimenting with want-buttons on news feeds. Social media as web shops is one way in which they can help your brand and business.
Instagram
Instagram recently launched web profiles, giving brands the ability to show fans and customers an online showcase of their visual brand story. It is no surprise that visual content will become increasingly important in 2013. A study by ROI Research shows that 44% of respondents are more likely to engage with brands via social media if they post pictures than any other sort of media.

Social Video
Even video will become more prevalent. Red Bull and General Electric, for example, are using video-creation apps like Viddy to post short and exciting brand-related videos giving followers an exclusive look. Therefore, the creation of high quality, visually appealing content will become a priority for many brands and businesses, on Instagram and Viddy, but also Facebook and Pinterest.
Social Media Strategy & Consumers
What is important here, is having a powerful strategy and being transparent. Use Instagram and Pinterest to show people what your brand is all about. It is important to work with an agency that understands your brand in and out. Today's consumers have become more media wise than ever, and they can see right through your bull shit if you don't 'do social media right.'
Over 50% of the world's population is under 30 years old, which means Gen Y and Gen Z make up most of your social media fans.
They are especially picky when it comes to brands they listen to, and brands only get one chance to make a first impression and gain their trust. Give them peeks behind-the-scenes and upload quality content related to your brand to engage them with your business, and build a personal relationship with them.
Also: don't post and be done with it, be social. Talk to your fans to get their input, what do they want to see? Answer their questions, and be nice. Why? Because your fans are the ultimate brand ambassadors. And they can make or break you.
Crowd Sourcing
A trend directly related to this fact is crowd sourcing. In 2013, 54% of the mobile phones that will be used are smartphones. The cameras in smartphones are getting better and better, and your fans are producing high quality branded content on Instagram, Pinterest, Twitter (according to Erik Qualman's book Socialnomics, 53% of people on Twitter recommend products in their Tweets), and Facebook, without you probably even knowing about it.
Get them on your side, and they will give you all the fan made content your brand can wish for. Your fans can do your social media marketing for you and bring you new customers: 90% of consumers trust peer recommendations, only 14% trust advertisements.
Social commerce through these peer recommendations will most likely blossom in 2013.
What else?
Customer Service.
Your customers don't call or e-mail anymore, they don't want to wait for hours or days for you to respond. Instead, they tweet their questions and problems. If you're not present on Twitter, their questions will be ignored, which will get your brand or company a lot of negative feedback.
It's easy, and social media profiles won't cost your brand a dime.
The Ultimate Newsroom
Social media have also recently proven to be the ultimate newsrooms. New Yorkers received Tweets about an east coast earthquake 30 seconds before they felt it.
Israeli soldiers posted Tweets and Instagrams while preparing for the attack on the Gaza Strip.
The amount of photos uploaded to Instagram doubled during Election Day in the U.S., and more photos were uploaded of Hurricane Sandy than the Super Bowl.
A photo from the Israeli Defence Force's Instagram page.
Big-Data
Needless to say Instagram co-founder Kevin Systrom says Instagram needs to be a Big-Data company:
"Instagram's focus is on making meaning of all the data coming in, and improving the experience of curating. There were only 85,000 #SuperBowl Instagrams, compared to the 800,000 #SandyGram. People can't consume 800,000 photos, but they still want to pull valuable information from them."
For example, Instagram uploads can show us which spots in major cities are trending among tourists, and consequently tell us which of these spots are most suitable for advertisements.
LinkedIn
What about LinkedIn? The prediction is that LinkedIn will go from focusing on HR to brand building. You can build an entire profile for your brand or company that gives an overview of your employees, services, and page statistics.
Others can follow your company, and contact you when interested.
Summary & Opinion
To sum up, some of the trends for social media in 2013 can be found in social e-commerce, creating visual content, brand transparency, crowd sourcing, customer service, big data and social platforms as newsrooms.
Can your brand be present on every social network? Of course, but think about what every platform can do for your company, don't start just to be online.
Choose the right channels: which ones can connect your company to your fans? Which one is most suitable to tell your brand story? These are all questions that need to be answered before you choose to have a social presence.
And if you're still wondering about the ROI in social media, Erik Qualman gives you your answer:
"The ROI of Social Media is… Your business will still exist in 5 years."
Read more facts in Erik Qualman's Social Media Video.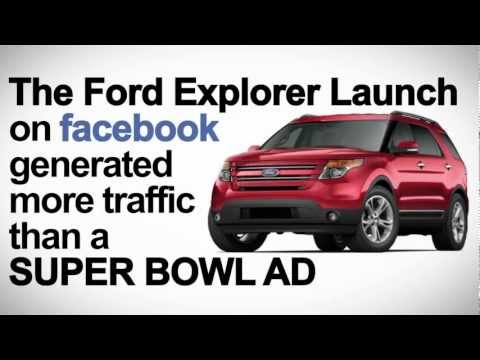 Your Opinion
Do you agree with the trends mentioned in this article? Do you have any additions? We'd love to hear from you in the comments below!
Want to read more social media trends? Subscribe to our category Social Media, follow ViralBlog on Twitter or join our Facebook movement.
---
About the author
Marion aan 't Goor is a Social Media Consultant at Share Force One. You can connect with Marion via Twitter and LinkedIn.