Diesel's Simulation Of Facebook – Facepark
Last year Diesel kicked of the Be Stupid campaign. With this campaign, they creating a hook for creativity in controversial advertisement. Diesel Germany took this opportunity to create a highly remarkable offline event: Facepark.
What would happen if you took all the possible interactions of a highly successful platform such as Facebook into the real world? Continue reading for the video and insights.
Personally, I love the idea of the "Be Stupid" campaign. Its a intelligent move to turn a jeans brand into a philosophy that can be adapted by a large group among the target population. With great copy such as: "Smart sees what there is. Stupid sees what there could be." and "Smart listens to the head. Stupid listens to the heart.", Diesel engages their target audience to bond with their emotional side, instead of their rational.
Back to the Facepark campaign. The idea of Facepark is really simple: Take a big cardboard and cut out a piece. Head over to the park and start using the familiar Facebook gestures and interactions with friends and random strangers.
The philosophy of the day was based upon the fact that the park is much more fun then the internet. "Instead of wasting our lives in front of our computers, we chose to waste our lives in the park", Diesel stated. Digital is smart. Analog is stupid. Be stupid. Check out the video: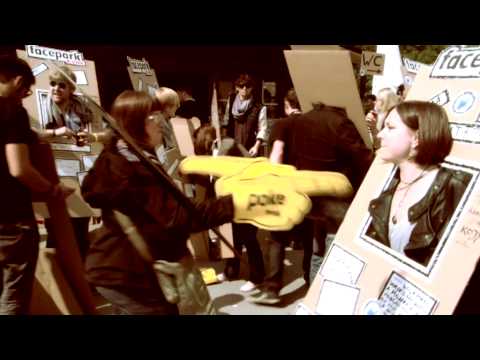 Personally I think its a nice move from Diesel. Making remarkable stories has been one of the key factors for great campaings of Diesel over the last few years. Remember the Heidis campaign?
However, telling your audience to screw digital and become a fan of analog while driving the traffic towards the offline event through social (and asking to become a fan of the Facebook page for example) is a nice paradox. I guess digital isn't so stupid after all.