Israel's Café Café Launches The Harlem (Milk) Shake
Café Café, Israel's largest coffee chain with 106 stores launches a clever new product and campaign: The Harlem (Milk) Shake.
Ecaliptoos, an innovative new-media agency in Israel quickly seized the opportunity to join the Harlem Shake mania and created a campaign for Café Café.
In order to join the new meme Café Café created a special milkshake edition called Harlem (milk) Shake.
The launch was supported by a Facebook offer campaign for a discount of 25% on Café Café's new "viral" milkshake.
Aside from the Facebook offer, Ecaliptoos created their of the famous video starring the Café Café's staff from the Ramat-Gan store: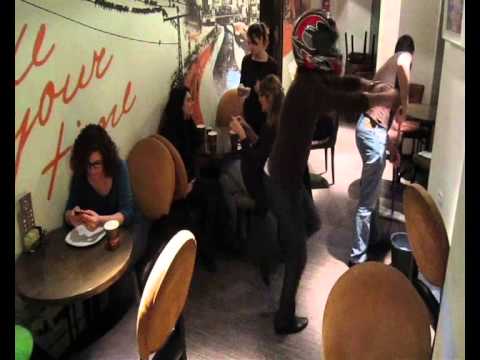 My Opinion?
Israel is famous for its innovative technology start-up scene, but we frequently see innovative digital campaigns from that market as well.
This campaign is truly cleverly orchestrated. One: it is smart to tap into Harlem Shake's viral movement. That might earn extra attention.
Two: creating a new product called Harlem (milk) Shake is commercially adding value and really relevant for a coffee chain. In warm weather markets iced-coffee is popular, so are milkshakes.
Three: it is coining the trendy buzz word Harlem Shake by a smart chosen product and campaign name.
Four: a campaign like this shows that the brand has both humor and knows consumer trends.
Two thumbs up for Ecaliptoos' strategy and creative director.

What About You?
How do you like Café Café approach? How many other brands will tap into the Harlem Shake movement? Place your bets, or ideas, in the comments below.
Follow & Share
Want more stories on breaking with the status quo? See our category Trends & Innovations, join us on Twitter, LinkedIn, Facebook, Pinterest, RSS and get our weekly E-mail Newsletter for updates and free bonus content.
About the Author
Igor Beuker is a serial entrepreneur, acclaimed trendwatcher & speaker, marketing consultant and advisory board member at several disruptive media, technology and entertainment firms. Book Igor as keynote speaker, follow Igor on Twitter or contact him via LinkedIn.