Brazilian Football Club Asks Fans To Give Blood
Football is in the blood of most Brazilians, but how willing are the fans of samba football to give some of their blood away? That's exactly what one of Brazil's oldest football clubs is attempting to find out in a novel and innovative move.
Football has become more and more commercial. Sponsors dominate shirts and advertising boards and the players are coining it. But what's increasingly forgotten is that football can also be used as a vehicle to promote powerful messages, to take a stand and create awareness.
To combat the dangerously low blood donation rates in Brazil, second division soccer club Vítoria has come up with a clever way of promoting the club's blood donation campaign, rather than the standard pitchside advertising hoarding or square-inch advert in the match programme.
Together with São Paulo, one of Brazil's biggest clubs who put the slogan "Give Blood" on its shirts for a game, Vítoria is helping the Health Ministry in Brazil in a nationwide drive to get more Brazilians to give blood for transfusions.
The percentage of blood donors in Brazil is currently only at two percent, the World Health Organisation recommends the number should be three percent.
Vitoria, founded in 1899 and based in Salvador in the northeastern state of Bahia, is famous for having launched the careers of World Cup winners Bebeto and Vampeta, and current Chelsea defender David Luiz.
To promote the blood donation cause Vítoria, which is nicknamed "Rubro-negro" or "Red and Blacks", launched the campaign "Meu Sange é Rubro-Negro" (My Blood is Red and Black), named after the club's traditional colours. 
EC Vitória's red and black-striped jerseys, that are a integral part of the team's identity, are now swapped for black and white ones, so losing the red part. 
Though supporters might have looked a bit confused when seeing their favorite team in other outfits, the players revealed the jersey rebranding by carrying a banner reading "Vitoria has always given its blood for you. It's time for you to give yours."
Vítoria promised the team's jerseys would gradually return to its original color during the season, stripe by stripe, when each blood donation 'goal' is achieved.
The campaign, created in conjunction with Leo Burnett Tailor Made and the Health Secretary of Bahia, is being promoted through its official Facebook page with over 50,000 fans asking fans to send in pictures of themselves donating.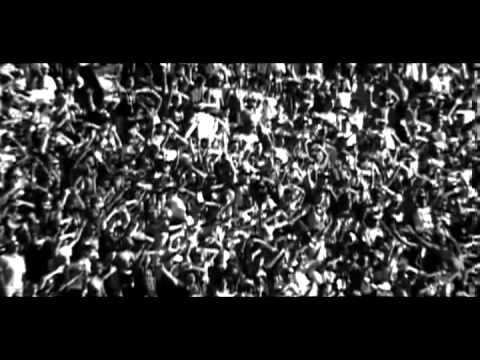 "We wanted to do more than just ask fans to give blood," said Vitoria's president, Alexi Portela Junior. "With this initiative, fans of the red and black can participate more actively in the campaign, and they will see the importance of a gesture like this that can help save countless lives."
It might seem like a simple action, but with the magnitude of football fans in Brazil, the campaign has the potential to reach far and wide to raise awareness of the importance of blood donations.
In fact, it has already started to make waves internationally, something which has no doubt exceeded the team's expectations.
Contagious Magazine delivered an excellent and very well put insight about the "My Blood is Red and Black" campaign:
It's heartening (excuse the pun) to see the celebrity influence of footballers being used for a more worthy cause than endorsing sportswear.

Changing something as iconic as Vitoria's football kit is a smart way of highlighting the need for blood donation, immediately creating curiosity among sports fans as to why their clothing has changed and then keeping the issue front of mind as it gradually changes throughout the season.

The campaign plays with the concept of social cohesion – bringing people together around a common cause – linking feelings of pride and camaraderie related to the support of a football team to the support of a health cause.
The give blood campaign already seems to have brought them luck on the pitch as well, as the team in red-less shirt, won all their matches since the start of the campaign on June 30th.
Sources: Reuters, Contagious Magazine, Metro and Daily Maverick
---
About the author
Paul van Veenendaal (34) is an all-round marketing professional from the Netherlands with 12+ years of online experience and co-founder of ViralBlog. Currently Paul is working at Starcom Amsterdam as Social Media & Communnity Consultant for Honda, Samsung, GSK, Redbull, Heineken and Nintendo.
You can connect with Paul via Twitter, LinkedIn, Hyves, Facebook, Weibo, Pinterest, Del.icio.us or send him an email at [email protected].