BMW i: A Window Into The Near Future Of Mobility?
BMW is revealing its passion for technology and innovation. The BMW i window into the near future digitally transforms passing cars into the all-electric BMW i3 and plug-in hybrid BMW i8 Concept vehicles, showcasing their vision for the future of mobility.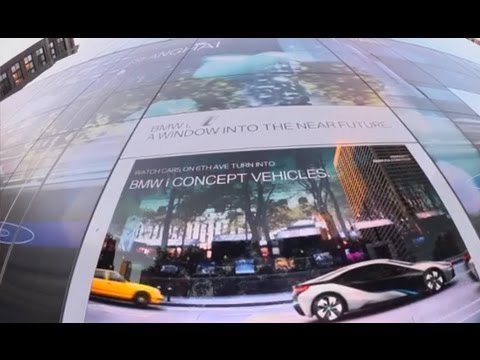 The window, using digital projection and motion detection technology projects cars in real-time on a large street window.
It also calculates how much money would be saved and how many tons of CO2 emissions we can reduce annually if each transformed car were all-electric.
See the window in person at 42nd Street and 6th Avenue, across from Bryant Park in NYC.
BMW i vehicles will be on the road in late 2013. Is the future closer than you think? Discover the answer at this cool BMW micro-site.
My Opinion?
The car industry was a leading segment when it came to embracing the online world. Across the globe, in almost every market, the automive industry was top 3 calculated in online advertising spend.
But after several years, automotive dropped out of the top 3, and out of the top 5 big online spenders in many markets.
But I think that technology and innovation is so deep in their DNA – certainly with the shift to electrical cars driven by computers, not engines – that the car industry will climb up the online ladder again. BMW might be leading the way.
If you think about the opportunities showing the near future of mobility in this "window", you might also understand what internet technology, 3D, NFC, AI, and Social Media could do to Digital Out Of Home campaigns?
Remember this scene from the film Minority Report from 2002 starring Tom Cruise?
Back then (2002) targeted virtual billboards were just science fiction, right? Well here we are, 10 years later. And science fiction, it might suddenly be reality.
What About You?
How do you like this digital approach by BMW? What possibilities do you see for Digital OOH in the near future? I'd love to read your thoughts in the comments below.
Follow & Share
More trends in technology? Browse our category Trends & Innovations, follow ViralBlog on Twitter, grab our RSS Feed or join our Facebook movement to get more exclusive cool content.
About the Author
Igor Beuker was CMO at 3 listed companies, chairman at the IAB, jury member at Webby, AMMA and Esprix awards, founder of 3 digital agencies (sold to WPP) and global chief social officer at Mindshare. Now he is 'freejack' consultant and a sought after keynote speaker.