Gangnam Style Cash Cow: PSY Makes $6 Million For YouTube
Gangnam Style with 1.2 billion clip views is a cash cow. PSY makes $6 million for YouTube. Entertainment firms, record labels and broadcasters, you might want to read this story.
Every time a user watched the Gangnam Style video, YouTube is making half a cent (=50% x $ 0,01= $ 0,005). So PSY made a total amount of $6 million.
However, 50% of that $6 million goes to PSY's record label, so they get $3 million, without any hosting costs. The viral music video hit Gangnam Style hit the staggering "1 billion views" mark in December 2012, and it is still growing.
Is Google making money off of YouTube? Yes they finally are.
A Wall Street estimate is that YouTube will be making more than $3.6 billion in gross revenue in 2013, says Citi's Mark Mahaney. After distributing some of that to partners, Google probably records net revenue of $2.4 billion, Mahaney says.
Last night Google presented a record in revenues over 2012: Over $50 billion. Advertising was the main driver behind the growth. Analysts were wrong with a lower growth forecast for 2012.
PSY was smart to sign at Scooter Braun's Schoolboy Records, part of Universal Republic. See the video announcement here: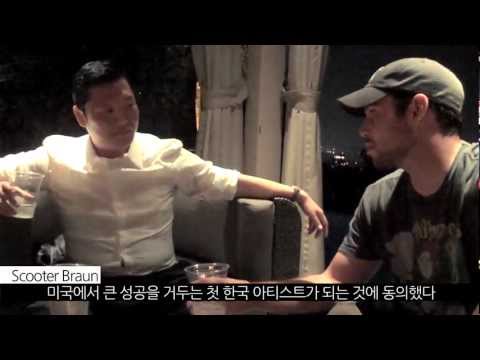 My Opinion?
Record labels, movie and game companies, managers of David Guetta, Lady Gaga and Leo Messi: Have you all signed your YouTube partnership?
How about the trend of Electronic Dance Music (EDM) that will soon be #1 in the US? How many millions of Dollars can be made with house video clips and other EDM clips on YouTube US?
If you are smart, you could already predict the video ad revenues made by dance mogul ID&T or Live Nation. How?
The SocialBlade metrics around YouTube partner Turner Benelux will lead you the way. Marketing used to be an art, now it's a science.
Just imagine all the disruptive business ideas that could shake-up your marketplace.
How about the UFC in the US? The fight network climbed the Pay TV ladder with big steps in 2012. How much money can they make with their social videos? Or how about the new K1 fight network Glory?
The thing I like most about this video trend? Social agencies do not only know that content is king. They also know that distribution is queen and metrics is the emperor.
Unfortunately, I already sold my agency SocialMedia8 and my videolytics company ViralTracker to WPP in 2008, to leave them behind in 2012.

What About You?
Did you know that YouTube was making so much money on Gangnam Style? Maybe Google also made money on PSY's iTunes sales? I'd love to read your opinion on the future of video advertising in the comments below.
Follow & Share
More great videos? Browse our flagship format Viral Friday, follow ViralBlog on Twitter, grab our RSS Feed or join our Facebook movement to get more exclusive cool content.
About the Author
Igor Beuker was CMO at 3 listed companies, chairman at the IAB, jury member at Webby, AMMA and Esprix awards, founder of 3 digital agencies (sold to WPP) and global chief social officer at Mindshare. Now he is 'freejack' consultant and a sought after keynote speaker.