Oprah Winfrey Flash Mob Dance
For the official opening of Oprah Winfrey's 24th Season (2009-10) the Black Eyed Peas performed "I Gotta Feeling" for 21,000 fans on Michigan Avenue in Chicago. What Oprah didn't knew in advance, that al these fans suddenly started one big flash mob dance…
Thousands of people showed up on Michigan Avenue downtown Chicago, which was shut down for the Oprah Block Party.
The dance started from single women and rapidly it spread among all of the people, gathered there. See the video here:
You can check the flash mob here from above (amature footage):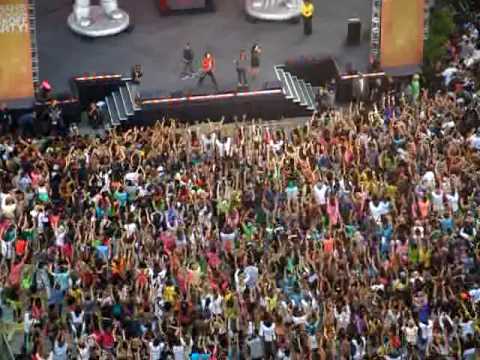 Oprah was much surprise on this out class reaction of the crowd. She was completely unaware with such kind of response by the public.  She commented on the performance: "That was the coolest thing ever" and we definitely agree on that. The producer, Michael Gracey, was also responsible for the famous flash mob dance at a Liverpool train station that was used for T-Mobile,  but the Oprah flash mob was much larger in scale.
It seems that this is another viral succes for Oprah. We posted before that Oprah is becoming a rising star in the social universe, with this kind of content her star is even rising more!
See also here the Oprah Flash Mob Tutorial video, if you feel like to dance together with the video in your living room. Niels Bellaar, one of our bloggers, tried it and he felt enlighted and exciting at the same time
Update: It seems that this Flash Mob was sponsored by T-mobile. See here for more
Update: The Youtube video is no longer available due to a copyright claim by Harpo, Inc., we've embedded an approved version.