Rebel Rocket Attack Hits Disney's Dumbo
Bansky has uploaded a video to YouTube which shows a group of rebels shooting Disney's flying elephant, Dumbo, out of the sky with a rocket launcher.
With Banksy, it's sometimes hard to tell what political statement he wants to communicate . But one thing is for sure: he always has a message.
The 90-second video was posted on YouTube last Sunday (6th of October) accompanied by the message:
"I'm not posting any pictures today. Not after this shocking footage has emerged…"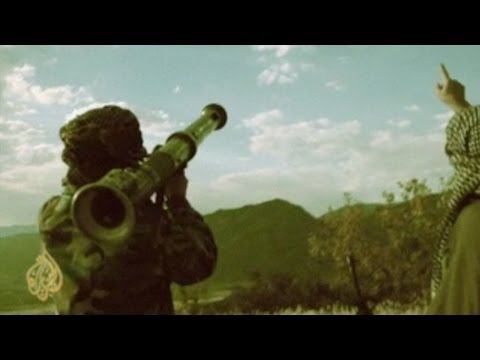 The video is becoming more viral each time we've checked the amount of views.
Today (Monday, 7 October) it already reached 1 million views!
Some theories include that the video is a specific reference to the situation in Syria.
Banksy uses elephants as a symbol of poverty or even as a symbol for the USA.
Some blogs believe that the video is suggesting his next work will be located in DUMBO – the Down Under the Manhattan Bridge Overpass – a neighbourhood in Brooklyn.
This could be a logical explanation as Banksy is currently engaged in 'Better Out than In', a project that sees him act as artist-in-resident to the streets of New York.
The project involves creating one work of art a day for in October.
The work includes a New York delivery truck converted into a mobile garden (includes rainbow, waterfall and butterflies), which looks like -again- a Disney movie scenery…
Remarkable is that Banksy is not the master of all available mediums.
Banksy started on walls, and only after mastering that craft did he move on to galleries and eventually film.
He's not on Facebook or Twitter—unless you count all the people posing as him—and he doesn't have a blog.
Instead, he uses a handful of mediums that work best for his brand and that he can confidently deliver great content in.
So it's quite remarkable he has used YouTube now, in order to spread a new message. Perhaps a new movement?
My Opinion?
I tend to look at the video from a marketer's point of view: what can we learn from it?
I believe Banksy's work is more an art form than a 'commercial guerilla marketing campaign'.
But Banksy does some very interesting work that may help you on your next campaign:
Think out of the box, provoke or inspire your audience and perhaps make them even laugh!
What About You?
So what do you think Banksy is trying to tell us whit this video?
And what do learn from it, from a marketing point of view?
Follow & Share
Want more stories on breaking with the status quo? Browse our category Viral & Social Video, join us on Twitter, LinkedIn, Facebook, Pinterest, RSS and get our weekly E-mail Newsletter for updates and free bonus content.
About the Author
Laurens Bianchi is an independent online (sport) marketing professional from the Netherlands and has been blogging on ViralBlog since 2008. Currently Laurens is also the Social Media Consultant for the Royal Dutch Football Association.