Viral Internet Ads: What Is The Winning Formula?
Advertising. It's a tricky, rude, mean, awesome world. And it's full of tricky, rude, mean and awesome ideas.
Lately, those ideas have also been hilarious – something that marketers and advertisers miss the mark on a lot of the time.
It seems like we are in a blissful period of advertising campaigns, including the AT&T "It's Not Complicated" series, the Motorola/Google Moto X  "Lazy Phone" commercials and the T-Mobile "JUMP" spots.
So what do those three advertising campaigns have in common that make them so great?
They Play Nice
Apple and Samsung went head-to-head this summer, bashing one another to the point where everyone wanted them to give it a rest. AT&T, T-Mobile and Motorola are giving us the rest we asked for by sparing us the competitor bashing in favor of comedic self-promotion.
The "Lazy Phone," ad spots highlight different Moto X features – without ever calling out competitors.
AT&T's ads are super basic. They just talk about how reliable its network is (with the help of elementary school kids – did I mention they're adorable?). That basicness makes the commercials feel natural – and because most of it is improvised, it really is natural.
T-Mobile's commercials don't even have a lot of dialogue.They just highlight the one feature they have that others don't – their JUMP offer (now, T-Mobile lets customers pay $10 a month, which allows them the opportunity to upgrade their phone every 6 months).
They're Relatable
T-Mobile probably does this one the best. In their campaign, they depict the kind of undesirable situations we put ourselves in with our phones – like living with a cracked screen and using rice to dry out a phone that's taken a swim.
The Moto X commercials also give us an air of familiarity – like how disruptive it is when your phone goes off in a meeting, or trying to access your camera app in time to snap a picture.
Keeping it relatable keeps your mind off of competitors. It keeps your mind off of the price. What it does is make you feel like you're looking at a commercial that is based on your life – for products that can help improve it.
They Enlist Expert Help
No, I'm not talking about a fancy ad agency à la Don Draper. They enlist the experts when it comes to comedy. Both AT&T and T-Mobile have picked from the SNL family.
AT&T enlisted the help of Jorma Taccone – he worked at SNL as a writer and supporting actor, most notably in the Digital Shorts with his comedy troupe buddies Andy Samberg and Akiva Schaffer.
And the hilarious guy dead-panning with the kids in the AT&T commercials? That's comedian Beck Bennett. And guess what show he is making his debut on this fall? You guessed it – SNL.
T-Mobile chose to have 8-year SNL veteran Bill Hader front its campaign. Hader is a crowd-pleasing choice, since he can make an audience laugh with just a look – something he perfected while on SNL.
Motorola didn't choose anyone from the SNL family, but they did choose comedian TJ Miller (one of his better known roles is a supporting role in She's Out of My League).
Choosing experts and recognizable names and faces makes people excited to see these commercials – because they know they're going to laugh. Even if the commercials weren't funny, when you see a comedian on the screen, your mind autopilots to get ready to laugh – a smart tactic.
They leave us wanting more
Fortunately for us, these ads are campaigns featuring the same actors in the same winning formula – so we can expect more to come.
We'd also like to see more from Verizon, who since acquiring Verizon Wireless, has already released a hilarious Halloween commercial: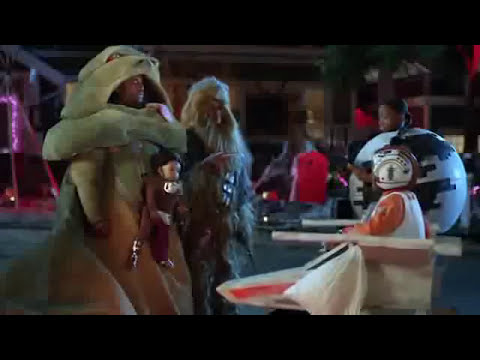 Thankfully we have YouTube, so that we can watch these ads over and over again in all their comedic, relatable, friendly glory.
My Opinion
While competitor bashing tactics can sometimes be effective, the comedic approach these brands have taken in their advert campaigns resonate much more with their target audiences.
The humor element ropes the audience in and builds anticipation for follow-up spots.
What About You?
What do you think about the ads? Are they a nice change of pace from the Apple/Samsung ads from this summer, another forgetful campaign, or ads to remember?
Follow & Share
Want more stories like this? Browse our category Viral & Social Videos, join us on Twitter, LinkedIn, Facebook, Pinterest, RSS and get our weekly E-mail Newsletter for updates and free bonus content.
About the Author
Sam Melton is a marketing professional turned freelance writer. He specializes in advertising, social media and business technology writing. You can follow him on Twitter at @SamMeltonTalks.