Why Advertizers Should Include YouTube (Video Infographic)
YouTube launched as online video entertainment portal, but its massive popularity and mainstream prevalence has turned it into a major video advertising platform. Read this story, including video infographic.
Today YouTube is a very powerful and vastly important video marketing tool for advertisers.
That's why this story with videographic shows the reasons, results, and revenue that are making YouTube a video marketing must for brands trying to catch the eye of audiences around the world.
Video Infographic: Advertizers Should Include YouTube
Video is one of the biggest and most impactful online trends. That's why our friends from MDG Advertising created the following videographic: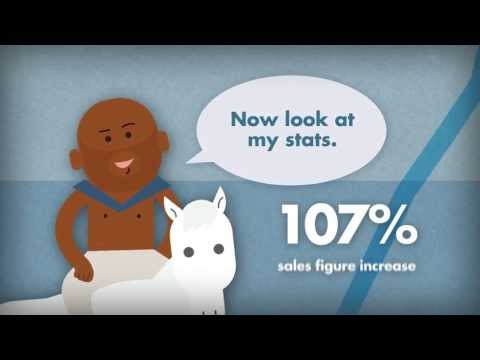 The video shows how YouTube offers advertisers the coveted combination of exposure and revenue. It also reveals how YouTube is driving Old Spice to new media fame.
Not only is Old Spice the most-viewed sponsored channel on YouTube, it also gained 80,000 new Twitter followers in two days and an 800% rise in Facebook interaction. Most importantly, the 107% increase in sales financially validates the value of the video-sharing platform.
Citing the power and profitability of the platform, the video goes on to mention how Gangnam Style is the most popular YouTube video of all time, earning more than 1.7 billion views in two years and $870,000 in ad revenue from YouTube in 2012.
My Opinion
Online video is a massive trend and here to stay. Most of the non linear minds already know that video will further disrupt the traditional medium Television.
The videographic by MDG Advertising clearly shows how the top brands and channels developed their audiences by balancing engaging content with a clear message.
This strategy has proven successful by delivering an average of 35,000 new subscribers and 884,000 monthly video views.
In regard to the social media scene, the video displays how the top brands on YouTube average 2.6 million Facebook likes and 203,000 Twitter followers.
On the financial front, it reveals that the top 1,000 YouTube channels average $23,000 in monthly ad revenue. That's way above average for digital advertisers.
With YouTube standing at the peak of its prominence, also large record labels and music companies are making massive kickbacks from the YouTube kickback from advertising Dollars. Just take PSY as the benchmark for the possible extra money in your pocket.
With all close to a billion eyeballs spending a lot of time on YouTubetime, clever advertisers will leverage YouTube's captive audience to keep their existing customers engaged and their prospective customers intrigued.
What About You?
What facts surprised you most? Let us know in the comments below.
Follow & Share
Want more stories on breaking with the status quo? See our category Trends & Innovations, join us on Twitter, LinkedIn, Facebook, Pinterest, RSS and get our weekly E-mail Newsletter for updates and free bonus content.
About the Author
Igor Beuker is a serial entrepreneur, acclaimed trendwatcher & speaker, marketing consultant and advisory board member at several disruptive media, technology and entertainment firms. Book Igor as keynote speaker, follow Igor on Twitter or contact him via LinkedIn.