Dolce & Gabbana – Walking In The Line Of Fire
Last weekend quite a crowd were protesting in front of the D&G flagship store in Hong Kong. Hong Kong citizens were furious at the Italian fashion brand. What exactly went down?
Strikingly, D&G prevented locals from taking pictures of their store. There's more to the story, not everyone was forbidden from taking pictures. Foreign shoppers and Chinese mainlanders were the exception to the rule.
When the word got out, the story spread like wildfire in Hong Kong and soon after that a Facebook event was organized. The set up was to gather in front of the D&G flagship store and take pictures.
More than 1.000 people gathered and took photographs, D&G had to close the store early because of the protests.
The news is spreading globally and also reached D&G's Facebook wall.
So how did Italian fashion brand D&G react to this?
We wish to underline that our company has not taken part in any action aiming at offending the Hong Kong public.
Even government officials are taking part in this affair, Henry Tang Ying-yen plans to raise the issue in the Legislative Council. Representatives of D&G even defended they were protecting their intellectual property.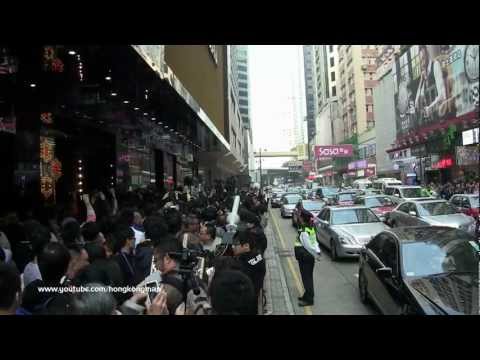 See the above video to what extent the protests took place.
Does D&G understand the digital age at all? The very least thing they need is a good PR crisis management team. For now they are taking it laid back, do they really think they can get away with this?
The conversations aren't stopping and it seems the story will definitely get a tail. As the next protest in Hong Kong against the fashion brand is coming Sunday. Let's wait and see what D&G's next move will be.
Sources: WSJ.com and Jingdaily.com