How To Stimulate Interaction On Facebook
Brands seem to love Facebook. Correction, brands love the people who are active on Facebook. Therefore we see branded Facebook pages pop up like mushrooms. It sometimes feels that having a Facebook page is a brand objective by itself.
But when a brand is active on Facebook and it is talking to it's fans, do the fans get to see their posts? Thanks to a Dutch marketing blog I came across five golden tips, how to make sure that your Facebook posts get noticed by your fans.  
The Facebook Wall is an interesting mechanism. Facebook has installed 'The Wall" in a way that only the "important news" will be shown. Therefore a large proportion of users never use the other option: 'latest news'. As a result, many updates by branded Facebook pages never get seen by her fans. To change this, branded Facebook pages need to increase their EdgeRank. EdgeRank is an algorithm that determines whether a Facebook update is deemed as breaking news or not. For a more detailed explanation on the EdgeRank, I suggest you watch the following video (released in January 2011).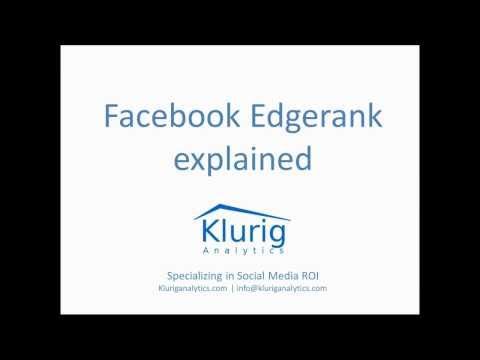 The EdgeRank is defined by affinity, weight and time. Much depends on overlapping friends and interaction (reactions, likes, comments, etc). To positively stimulate the EdgeRank it is of great importance to maximize interaction on the posts on your wall. 
Five tips how to increase your EdgeRank:
1. Produce interesting content: This is rule number one in social media. Content is the key to success. Fans will only spread content which is compelling. For Facebook you need to create content which stimulate interaction, by commenting and 'liking' the post. 
2. Synchronize nothing: Create seperate copy for your Facebook postings and for your  Tweets. This gives your fans the feeling that both channels are unique. 
3. Do not post too often: Research by Dan Zarrella has proven that posting to frequent on Facebook works against you. You should maximise the amount of posts to one a day.  
4. Give fans a reason to visit and like your page: When asking people to become a fan of your page, you need to give them something in return. This can be content, information, prizes, etc.
5. Use photos, videos & links when posting: This is directly linked to 'tip 1'. Using photos, videos & links in your posts, the post becomes more interesting for your fans.
Source: Marketingfacts written by @PeterMinkjan