How Brands Remastered 7 Famous Masterpieces Of Art?
Modern brands have remastered 7 famous masterpieces of art. Have you seen the recreations of the Night Watch by Rembrandt or Mona Lisa by Leonardo da Vinci?
In the end of this story we will ask your opinion about the remastered works. Are they a tribute or a disrepute to the artists?
Modern Reenactments of Famous Artworks
Although this might go down as one of the most elaborate modern reenactments of a famous artwork, it's not new territory in the world of branding.
Companies have long taken inspiration from art history, referencing everyone from Leonardo da Vinci to Grant Wood in the hope of creating an elusive bond with consumers.
Of course, some of these attempts at appropriation have had greater success than others.
Here's a look at 7 other ads that remastered the masterpieces.
ING: Rembrandt The Night Watch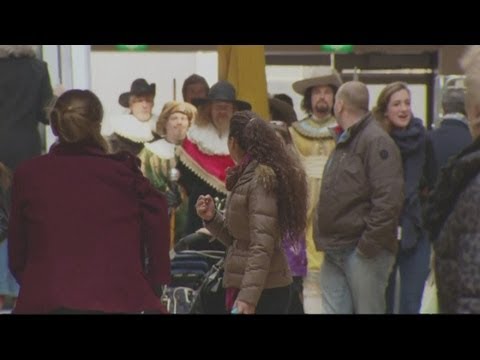 Last month, Dutch bank ING staged an impressive recreation of Rembrandt's painting The Night Watch to draw attention for the re-opening of the Rijksmuseum in Amsterdam, following a long renovation.
The flashmob-style event at a local shopping mall turned shoppers into unknowing art patrons, literally surrounded by the 17th-century masterpiece.
Pantene: Mona Lisa
She's arguably one of the world's most famous women, even if there's been much debate over who she really was.
In 2007, Pantene put together a print advertisement for a product to restore aging hair. All it took was a subtle alteration to Mona's hairdo, and she suddenly appeared a great deal younger than remembered.
Of course, this ad by Chanel wasn't the first to feature Mona Lisa's stoic stare, and it surely won't be the last.
Marithé + François Girbaud: The Last Supper
More likely to be used for satire than for sales, da Vinci's other crowning work, The Last Supper, showed up in a 2005 ad from fashion brand Marithé + François Girbaud.
The ad was so controversial it got banned in fashion city Milan.
Most notable is how John the Apostle is posed, on a woman's lap, with his back exposed. The ad's creators defended it, stating that, by showcasing women almost entirely, it reflected a move toward gender equality.
Pizza Hut: American Gothic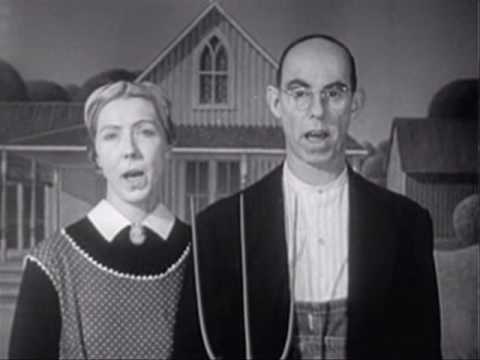 Take a trip back to the '60s and listen in on the "Eat Country Corn Flakes" jingle, led by the iconic husband-and-wife farmers from Grant Wood's American Gothic.
If the lyrics aren't enough to bring tears to your eyes, watch how weak the black-and-white animation is compared to today's standards.
Posing the couple for the clip created a familiar scene for the era — the Green Acres theme song closed with a similar shot — and it remains so.
Four decades later, they re-emerged for a Pizza Hut commercial, showing their staying power.
Ford: Whistler's Mother
Some art critics might be surprised to learn that the painting represented here was originally titled Arrangement in Grey and Black No. 1, but was renamed after the fact due to its popularity.

James McNeill Whistler painted it in 1871, and it found its way into popular culture over 100 years later, in a 1977 Ford pickup commercial.
Why's the woman sitting around in her rocking chair, when she can see the outdoors from the driver's seat of a new Ford instead? "Far out," she exclaims.
No doubt Whistler would have felt the same about this ad.
Glade: The Scream
A 1999 Glade commercial set out to answer the age-old question of what the character in Edvard Munch's iconic The Scream is so shocked by.
Apparently, this guy just couldn't take the nasty smell of cigar smoke, aimed right at his face (adorned on a dinner-party guest's tie).
Once the Glade plug-in takes its course, though, the character sings and dances in celebration, evoking moves reminiscent of Jim Carrey in The Mask.
About as far from the museum as it gets?
Reebok: The Birth of Venus
Sandro Botticelli's painting The Birth of Venus, which dates all the way back to 1486, depicts the titular Roman goddess arriving at the seashore.
In the 2008 version, Reebok has the winds that guide her instead blowing a female runner along the street.
This campaign called upon Venus' love, beauty, and prosperity to bridge the gap between the generations of powerful, versatile women.
ESPN: Dogs Playing Poker
Beginning of 1998, comedians Art Carney and Gilbert Gottfried and basketball legend George Gervin lent their voices to a series of ESPN commercials in which the trio represented dogs at a card table.
The Sunday Night Football campaign was a big success for the network, which rolled out a whole series of ads.
The original Dogs Playing Poker may not be an actual masterpiece — it was actually created by C. M. Coolidge, also as an advertisement (for cigars) — but it's been parodied countless times since, earning its spot on our list.

What About You?
Have we missed any brand appropriations of famous art that stand out in your mind? What's your take on these kind of campaigns? I'd love to read your thoughts in the comments below.
Follow & Share
Want more stories on breaking with the status quo? Browse our category Trends & Innovations, join us on Twitter, LinkedIn, Facebook, Pinterest, RSS and get our weekly E-mail Newsletter for updates and free bonus content.
About the Author
Igor Beuker was CMO at 3 listed companies, chairman at the IAB, jury member at Webby, AMMA and Esprix awards, founder of 3 digital agencies (sold to WPP) and global chief social officer at Mindshare. Now he is freejack consultant and still a sought after keynote speaker.
Source: Our friends from Shutterstock.