Ray-Ban Augmented Reality: Virtual Mirror
Did you try the Ray-Ban Virtual Mirror? You can download a 3D technology at the Ray-Ban site. Then connect your web cam. Next choose a Ray-Ban you like and see how you look in the Virtual Mirror…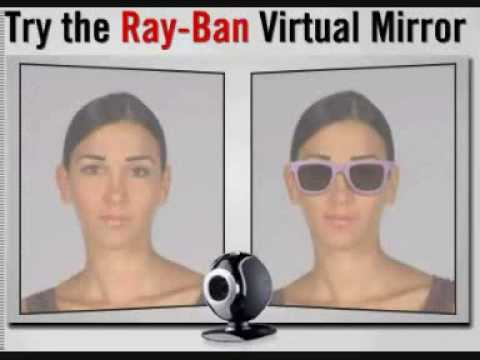 I feel it's an application that could help to spread the Ray-Ban brand online. But for sure its a relevant tool that drives consumer engagement and advocacy amongst peers.
It will even drive store traffic and retail sales.
Ray-Ban, you did well seducing people into your path of seduction, but you missed a major opportunity here. Consumers will fit a few models in front of your virtual mirror.
But when they have the model that makes them look like a "fashionista", they will not be able to click your buy it now button. Simply because its not there!
Why not facilitate consumers' instant satisfaction needs? Now people can't buy your product online and will have to visit a retail store. So the drop-off will be 50% or even much higher. You did so well online, but why not close the loop in marketing here?
The 3D technology that Ray-Bay uses here, is provided by French company FittingBox. These 3D technologies bring me immediately in the "mash-up" mode. See the demo in SlideShare below.
Since I recently opened a small retail shop (yes offline!!) in Amsterdam selling women's lingerie and men's underwear I am curious if these technologies will also enable my target consumers to try new underwear before their web cam.
Something like the KnickerPicker Online Dressing Room but now with FittingBox?! Off course with a "buy it online" button so consumers will be able to buy it immediately.
Let us know what new opportunities you see with 3D technologies. And don't hold back, go fully overboard in your ideas.