Why The 12th Man Football Campaign Knocked Me Out?
Football campaign The 12th Man knocked me out. It brought 93,100 Tunisian fans into a 12,000 seat stadium, 2 years after the Arab Spring. Warning, this piece of marketing might be emotional.
Some context so you will understand my emotions: I love football and was pro player for a few years. Same for my fellow author Laurens Bianchi, although he was a better player.
After our career Laurens and I played football for fun with our heroes Marco van Basten, Ruud Gullit and Aron Winter. See a team photo here.
We do write about football frequently here, but this campaign truly knocked me out and unlocked profound emotions.
Strange? Guess not. The idea won 5 silver and 2 bronze Lions at Cannes this year.
See more campaign details here.
The 12th Man Football Idea: Cannes Lions Winner
For security reasons, the Tunisian Government decided that all Professional Football League games would be played without any audience in the stadiums.
After average results throughout the season and with the year's most important game approaching, historical Tunisian team, C.S Hammam-Lif needed the support of their fans.
To reconnect the fans with the Club, they allowed supporters to cheer for their team without being in the stadium. With a downloadable mobile application that connects every fan to 40 giant speakers placed inside the stadium during the game: The 12th Man App.
The app enables fans to support their team inside the stadium while watching the game live on TV. A simple tap on sound icons is instantly turned into powerful support: cheering, clapping, drumming, singing…
The more fans press on the icons, the louder the sound in the stadium. Want to see the stunning case video: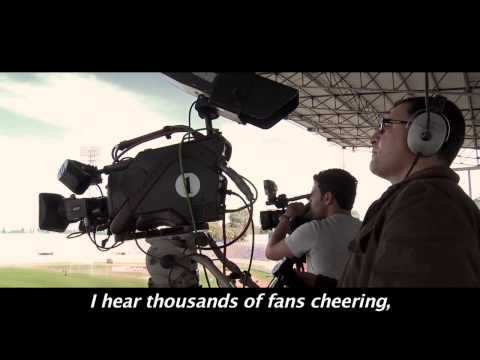 The campaign was created by Memac Ogilvy in Tunisia.
It won 5 silver and 2 bronze Lions at Cannes!
Technology Enabling Us To Do More Good?
The 12th man App made headline news. But it also showed how football can unite people, and how technology is enabling us to do more good.
More important to me is the people that are still suffering after the Arab spring, are getting the global attention and help for their problems.
Being a mash-up of a Dutch mother and an Israeli father, I have friends that live Tunisia, Egypt and Syria. It hurts to see what they have to experience for so long now. That's why this campaign punched me in the gut extra hard.
If you're a true football fan, you can probably agree that the 12th Man app saved the meaning of life.
From Memac Ogilvy I understood that the Tunisian Handball and Basketball League are up next.
My Opinion
Brands can use technology as a facilitator for people to do more good. That will be the love brands of the future. Okay, small recap how to do that being the CMO?
If your brand is becoming our friend — on social networks like Facebook, Twitter and through blogs. Here CMO's can re-engineer their brands, connect to their fans and establish a new brand identity through storytelling and social interactions.
Brands and technology can add pieces of meaningfulness to peoples' lives.
So, social media may well be the pain reliever we all needed so badly – the medicine that makes advertising relevant and welcome in our lives again!
To the leaders in the " Arab spring" countries I would like to say: Let go of your linear thinking: Suppression is an illusion. You will never succeed. Why not?
Because the basics of human beings is cooperation and democracy. It's in our DNA!
What About You?
How do you rate the campaign? What good cause would you support being the CMO? Share your ideas.
Follow & Share
Want more stories on breaking with the status quo? See our category Trends & Innovations, join us on Twitter, LinkedIn, Facebook, Pinterest, RSS and get our weekly E-mail Newsletter for updates and free bonus content.
About the Author
Igor Beuker was CMO at 3 listed companies, chairman at the IAB, jury member at Webby, AMMA and Esprix awards, founder of 3 digital agencies (sold to WPP) and global chief social officer at Mindshare. Now he is freejack consultant and still a sought after keynote speaker