TVCs: What Can Microsoft Learn From Amazon?
Big is only good when smart. In this story you will get insights and opinions on the new TV commercials released this week by giants Amazon and Microsoft. Amazon Kindle has a good spot. They do many things well, including their TVCs…
Microsoft Bing is bashing Google with a "Do the Pepsi Test" alike TV commercial. Not sure if this approach will fuel Bing's brand and business objectives. Or that it will create boomerang and backlash. How about you?
Amazon's new TVC for Kindle was launched during the NFL games last week in the US. The spot is supporting the kick-off around Kindle Whitepaper. Amazon revealed a 'backlit e-ink Kindle reader' at last week's press event.
Stylish, challenging and humble is my summary of the spot. Amazon even seems to understand TVC creativity. Scary, do they do everything right?
The Microsoft Bing TV Ad
Several Microsoft top guns have nightmares about the beast called Google. But this week, during the MTV Video Music Awards, Microsoft's Bing launched its new TVC: Bing It On.
The spot will next run on Fox, ABC and Hulu. It was created by agency CP+B. Several years ago, the agency created massive hits with BK's Subservient Chicken and many other great BK Ads.
Over the years CP+B's creative guidelines "going fully overboard" seem to have lost its magic? See the Bing TVC below.
CP+B's shock therapy treatment across the ads they create, do not reflect the wit, viral factor and long tail power on the web like they used to?
The Bing It On spot reminded me of the late '80s TV commercials by Pepsi: Do The Pepsi Test. In a not so very authentic way consumers always chose Pepsi. Of course the results of the test were never really shown.
But at least Pepsi had the decency to leave the Coca Cola out.
If CP+B's strategists would have done their work better, insights would have revealed to them, that the Gen-Y audience that is being targeted with the TVC, might not be perceived as very authentic by the youngsters.
And no matter which direction is chosen to fuel the creative team, all insights among Gen-Y tell that authenticity is key. Even at millennials from the US.
Some relevant other reasons: the Gen-Y audience is very sceptic when it comes to giants like Microsoft. So if comparing to Google will not bring the boomerang back, I'm not convinced.
Certainly when the Bing spot does not show any search results to the audience. That might have worked in the late '80s or mid '90s, but the world has changed. So how strong is the claim? And what will be the reactions from this audience?
If the CP+B's strategist was on holiday during the creative reviews, I might understand this creative output. But what happened during the strategy? And what during the PPMS and editing of this spot?
Sorry, I have given CP+Bs campaigns many feathers here at ViralBlog over the last years. And I was a true CP+B and Chuck Porter fan. But sticking feathers up your butt, does not make you a chicken. This ad, and its tone of voice, might be perceived by the audience as "lipstick on a pig".
Is the Bing product really so much better than Google to be able to make this claim? In the modern world, and certainly within this target audience, are overpromising ads a smart way? Or a tricky and risky way?
I really doubt if this spot will fuel Bing's marketing and branding objectives? And if a brand is a companies' most valuable asset, I have even stronger doubts.
Maybe it was the client that briefed for this direction, or overruled its agency. But knowing the CP+B culture, that seems koolaid I will not easily drink.
Based on the current market share of Bing, we can safely assume that Bing briefed its agency: "Grow our market share." When seeing this spot, I doubt if there was any disruption or strategic direction to direct the creative ideas.
Google increased its search market share in the US from 65% in July 2011, to 69% in July 2012, based on comScore data. Microsoft in the US decreased from 30.5% market share in July 2011 to 29% in July 2012. Bear in mind, Microsoft includes searches on Yahoo! due to their search partnership.
So in my opinion Amazon does well on TV. They do most things right. Microsoft's hot shots might have approved this TVC based on their strong emotions against Google? I doubt if this direction is smart. It looks more like an act of panic…
You can find the Amazon trilogy here. Here you can find the CP+B case study for BK's Subservient Chicken.
Below you can see the famous old skool viral movie Whopper Freakout for Burger King, created by CP+B. This spot shows how loyal existing BK customers really are.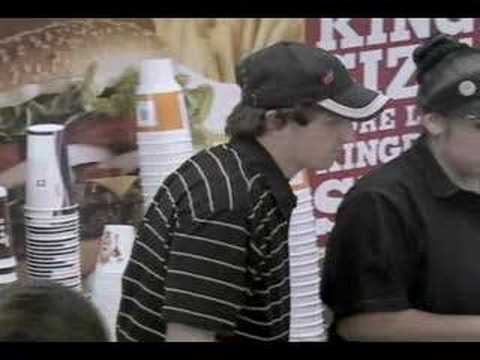 Loyal hardcore fans, that could have been one of the directions for Bing. But only if Bing has sufficient satisfied loyal customers.
A group of die-hard fans that would be willing to introduce Bing to their peers, that could have been a smarter way of digital bottom-up marketing targeted at millennials…
CP+B could have started with detecting Bing lovers. And next invite them to share their love for Bing. That could have been perceived trustworthy and authentic: Bing fans telling their peers about a great experiences. Gen-Y buying TV spots like these, I don't buy it.
Now I would love to hear your thoughts on above new TV ads in the comments below.
For more opinions follow Igor Beuker on Twitter or join ViralBlog on Facebook for more crisp content that is not published at our blog.
Source: AdAge.