Why Mario Balotelli Is The King Of Buzz?
You love him or you hate him: Italian striker Mario Balotelli. His amazing goals during EURO 2012 created a tipping point for this extravagant rock star. See what brands can learn from him, and discover why Balotelli is the king of buzz.
Nike Football sure has vision when it comes to contracting amazing players and they embraced Balotelli.
Could Super Mario become the next Eric Cantona or Dennis Rodman?
The Enfants Terribles of Football?
Many brands are grey and stuck in the middle. Their creatives and ads are lame and lousy, and don't entertain us at all. So these brands are fully depending on massive paid media budgets, and fully incapable of creating branded entertainment, free PR or buzz.
Yeah okay, some of the dullest brands around us have launched their Facebook fan page and bought some likes to look cool. And some even more dull brands have tried to earn attention by launching the most "me-too" alike flash mob.
Among the massive number of professional football players around the globe, Balotelli has probably a top 3 when it comes to TOMA (Top Of Mind Awareness).
In the old days we had more enfants terribles of football.
How about Gazza AKA Paul Gascoigne, Vinnie Jones, Paulo di Canio and Eric Cantona?
Very talented football players which you hated or loved. One thing is sure, the all added colour to football.
Vinnie Jones
Paulo di Canio
Eric Cantona
And to be really honest, on the football field above mentioned players behaved much worse than Balotelli ever did so far. So what's the buzz really about?

Let's take a look at why Super Mario is the king of buzz..
Some quick searches in social monitoring tools will make you aware of the massive buzz around Balotelli. I hope he will get the best out of his football career, and think he will.
If not, he might be a new fashion icon or a new movie star.
But since today is Independence Day in the USA, why not put Balotelli as the epic center of being totally free and independent?
Balotelli crashed his car in the city of Manchester. And there are other mad moments that keep building the buzz.
Two weeks into his Manchester City career, when Balotelli crashed his Audi R8 near City's training ground. Police were quickly on the scene to breathalyse, question and search the young Italian. They were particularly keen to know why he had £5,000 in his back pocket, to which Balotelli replied in his halting English: "Because I am rich."
Balotelli failed to emerge for the second half of a Europa League game in freezing Kiev last season after suffering an allergic reaction to the grass.
Some commentators sneered that he simply didn't fancy the minus 6 temperature, but Balotelli did emerge at the airport with obvious swelling to his face, lips and tongue, as well as sores on his legs.
In March, Balotelli was fined £100,000 after being caught throwing darts at youth players from a training ground window. Luckily, he missed, suggesting he'd never win top prize on the revived TV show Bull's-eye.
Happily, something good has come from the unfortunate incidents listed above. It's the City chant which goes: "Oooh Balotelli, he's a striker, he's good at darts. An allergy to grass but when he plays he's f***ing class. He drives around in Moss Side with a wallet full of cash. See the video below: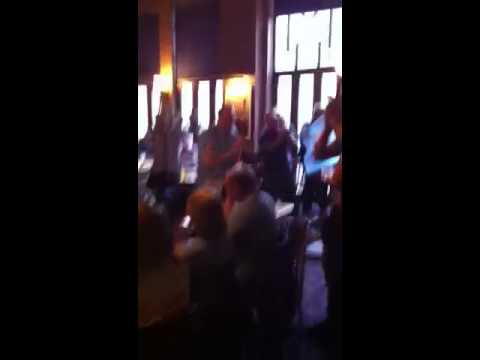 Super Mario's work in the FA Cup final against Stoke was exemplary, but he saved his best for the post-match TV interview. Asked if that had been his best game of the season, he replied with the words: "My whole season was shit. Can I say that?" (see video)
I don't believe Balotelli means harm. He mostly looks like a naughty boy who wants to have some fun. His five-fingered hat could have been a boy joke. There was also this lovely moment with Edin Dzeko. See what's Balotelli does in this video…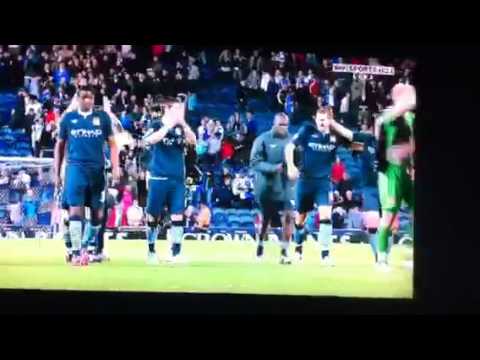 Super Mario must have had 50+ stunning, 2.0 new haircuts. But if you doubt his football skills, just watch this video. Tremendous skills are being performed at tremendous pace. And Mario does not only score buzz. See below video…
But for the boyish clown, putting a top on can be heard. You should see below video…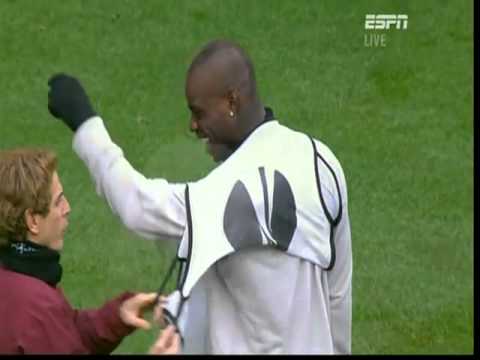 In October 2011, Mario and 17-year-old brother Enock were arrested strolling through the grounds of a women's prison in Brescia, near Milan. Questioned by the police Mario stated: curiosity got a hold of me and I just fancied having a look, that's all.
How did Super Mario prepare for the derby against Manchester? There's the early-to-bed route. And then there's the Super Mario way.
On Saturday morning, less than 36 hours away from his superb two-goal performance, Mario was being pulled away from his mansion by the fire brigade after an attempt to let off fireworks in his bathroom. As a result of joke, Super Mario had to live in a hotel for a while.
Facts are that Mario Balotelli was born on 12 August 1990 in the Italian Palermo. His parents, Thomas and Rose Barwuah, were poor immigrants from Ghana. At age 2, the family moves to Brescia, a city east of Milan.
Mario is not so super at young age. Not so super at all. Due to health problems Mario stays in hospitals more than frequently. In 1993, due to the extreme high hospital costs, his parents decide to give Mario up for adaption. A Brescia court decides to approve Mario's adoption by the family Balotelli from Concesio.
On his 18th birthday, Mario applies for the Italian nationality and lucky Italian football lovers: that application is approved.
Rumours say that at one specific day Mario's stepmother talks with Mario's new cleaner, and she sents Mario off to get a list of supplies including an iron, a mop and a hoover. A few hours later, Mario returns in his car followed by a van.
His mother looks out the window and sees no cleaning products whatsoever, nothing from her list. But Mario walks to the van and starts unloading a giant trampoline and 2 Vespa scooters.


On 2 July 2012 buzz around Balotelli explodes again, when his ex-girlfriend, 24 year old Raffaella Fico tells magazine Chi that she expects Balotelli's baby.
She also states that she has told Mario the day before Italy's match against Germany. The match in which Balotelli sends Germany home with 2 amazing goals.
So maybe fatherhood will turn the boy into a serious man? But I do hope that Balotelli will keep serving us great moments on and off the field in the future.
And that some CMOs will understand that truly being remarkable means earning attention and massive buzz. Grey and stuck in the middle, will not make you king of buzz.
For the ones of you that would like to see some visual buzz tagged: Super Mario and Balotelli. It was below moment that started a movement of user generated content…
Next see what happened in the social media arena: The Balotelli Pose!


What About You?
If you enjoyed this post, feel free to show us some love by sharing it. Found more great Balotelli poses? Post them in the comments below.
Follow & Share
Want more stories on breaking with the status quo? Browse our category Trends & Innovations, join us on Twitter, LinkedIn, Facebook, Pinterest, RSS and get our weekly E-mail Newsletter for updates and free bonus content.
About the Author
Igor Beuker was CMO at 3 listed companies, chairman at the IAB, jury member at Webby, AMMA and Esprix awards, founder of 3 digital agencies (sold to WPP) and global chief social officer at Mindshare. Now he is freejack consultant and still a sought after keynote speaker.
Sources: Addiomatic, Social Mention, Ice Rocket, Mirror Football, Wikipedia, Twitter, Facebook.