Black Friday 2011
Interesting figures published about Black Friday 2011 by Comscore and PayPal. Despite the financial massacre the world is currently in, US consumers replied the situation with spending, spending  and spending.
High figures reflects that this 2011 edition of the both horrific and beautiful day in the year flourished quite well.  The most interesting signal? Online gained massive ground this year. Perhaps a large segment of consumers choose for the safety of their home instead of the stampede for the a Xbox 360 package or of course an ipad 2.
We are going to zoom in on the online results. Want to see the figures? Read along!
Online
This year Black Friday boosted the online sales with 26 percent from $648 million to $ 816 billion which is an all time record. Massive as well since the increase from 2009 to 2010 was 'just'+9 percent.
In total 50 million Americans made a visit on Black Friday related websites. This 35 percent more than previous year.
PayPal
When talking about online sales, you must acknowledge the importancy of PayPal. The digital wallet of millions of consumers worldwide briefly reviewed this online edition of Black Friday.  
Some interesting points:
PayPal saw more people shop for deals from the comfort of their couches and mobile devices after Thanksgiving Day dinner. In the U.S., consumers shopped on mobile most frequently between 6:00 p.m. and 7:00 p.m. PST on Thanksgiving.
On Thanksgiving, consumers around the world shopped on mobile most frequently between 1:00 p.m. and 2:00 p.m. PST.
Thanksgiving 2011 resulted in a five-fold (511%) increase in global mobile payment volume compared to Thanksgiving 2010.
There was a more than three-fold (350%) increase in the number of global customers shopping through PayPal mobile on Thanksgiving 2011 compared to last year.
Shoppers in these cities made the most mobile purchases through PayPal on Thanksgiving 2011:
New York
Houston
Los Angeles
Miami
Chicago
Cyber Monday
Today is a massive day as well since it is Cyber Monday. Comscore provided an overview of the results from last year:
As the table shows US consumers spent an average of $ 114.24 per buyer with an average total of 1.90 transactions per consumer. The top 5 of most visited retailers shows an interesting clash of the titans.
Comscore's Chairman Gian Fulgoni commented on Comsore's website about Cyber Monday
"We now turn our attention to Cyber Monday, a day that Shop.org says will see eight-in-ten retailers running special online promotions. Last year, Cyber Monday was the heaviest day of online spending ever, with sales exceeding $1 Billion, and we fully expect to see another record set this year."
"Each of the top online retailers generated significantly greater Black Friday activity compared to last year," added Mr. Fulgoni. "Amazon.com once again led the pack, with 50 percent more visitors than any other retailer, while also showing the highest growth rate versus last year. However, it is telling that the top multi-channel retailers also showed strong growth in visitors, demonstrating the importance of the online channel to the retail industry as a whole."
Looking at below footage of this year's Black Friday, we might see even higher figures for online next year.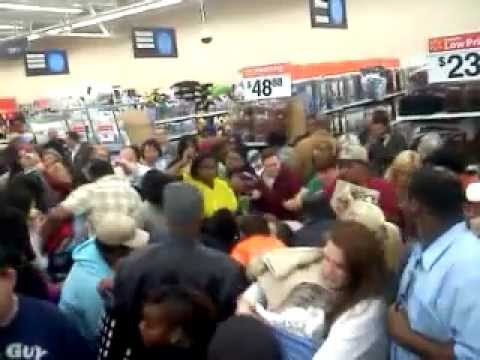 The complete review of Comscore's Cyber Monday 2010 can be found here. More intel about  Black Friday 2011 here.