Democracy 2.0? Iran Builds Software To Spy Social Networks
Should I call it democracy 2.0? The fact that Iran builds new software to spy social networks? Will it allow its people to enjoy the benefits of the Internet?
The Background
Iran's police chef, general Esmail Ahmadi Moghadam chief, was quoted in Iranian newspapers last Saturday. He stated that the Islamic Republic is developing new software to control social networking sites.
Purpose of the new software? It will prevent Iranians from being exposed to malicious content online while allowing the people to enjoy the benefits of the Internet. He did not say when the software would be introduced.
Moghadam also did not specify which social networking sites would be affected, but both Facebook and Twitter are popular in Iran.
Iranians currently have access to most of the Internet, although authorities block some sites affiliated with the opposition, as well as those that are seen as promoting dissent or considered morally corrupt.
Iran created a government agency last year to oversee Internet usage in the country.
The Arab Spring & The Iran Green Movement
Celebrated in June 2009 as a model of nonviolent protest against autocracy, the Iranian Green Movement has lost much of its strength and mobilizing capacity inside Iran while the Arab Spring has toppled regimes across the region.
No doubt, the price of speaking the truth via the internet was higher than expected for the Iranian civil actors. It resulted in massive arrests, Stalinist-style show trials, torture, rape, and murder.
Cutting Off Facebook & YouTube
In 2009 we already wrote stories on Iran releasing its Facebook cut off.
Facebook was cut off temporary in Iran, leading to accusations that authorities were trying to muzzle one of the main campaign tools of reformists opposing President Mahmoud Ahmadinejad in the June 12 2009 elections.
Is Iran inching closer to its own domestic intranet? The nation has launched Mehr, a new video-sharing site to replace YouTube, which has been banned there since the disputed 2009 presidential election and uprising.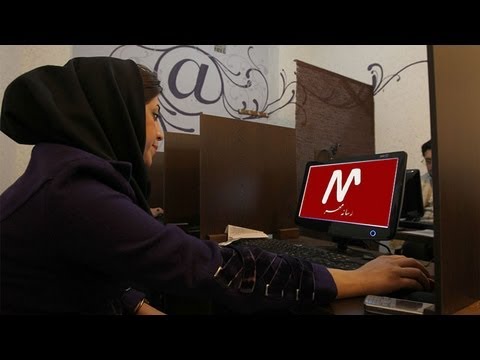 My Opinion?
It seems like the Iranian electric curtain, the regimes' attempt to cut off its web users from the Western and outside world.
But I'm not convinced that new building software to control on people's opinions on social networks is much better than cutting off people from social sites.
I am not claiming that we in the Western are always using technology to do good. However, I am convinced that the basics of human beings is cooperation and democracy. It's in our DNA.
In Western society we have taught each other that competition and winning is the most important thing of life. But competition is much lower in our value chain than cooperation. Even the new Western world is both cooperative and competitive.
Freedom of speech, it should be the right of the global society, not only the Western world.
So do I sincerely hope that the people of Iran will – one day – be released from the "electric web curtain" as well as cutting off social sites, or its regime trying to control their social sites.
What About You?
How do you feel about Iran's decision to control social networks with new software? How about freedom of speech? I would love to read your opinion in the comments below.
Follow & Share
Up for more opinionated stories? Become a member and schedule your e-mail notifications or subscribe to our weekly newsletter. Follow Igor Beuker on Twitter, grab our RSS Feed or join our Facebook movement.
About the Author
Igor Beuker was CMO at 3 listed companies, chairman at the IAB, jury member at Webby, AMMA and Esprix awards, founder of 3 digital agencies (sold to WPP) and global chief social officer at Mindshare. Now he is 'freejack' consultant and a sought after keynote speaker.
Related Stories
#CNNFAIL: A Warning Sign To News Agencies?
Iran Finally Ready To Release Facebook Cut Off?
Iran: A Nation Of Bloggers.