Exploring The Grand Canyon With Google Maps
Exloring the Grand Canyon with Google Maps? In this story we'll show you some stunning mapping innovations and examples.
Whether you're planning an upcoming hike, or want to learn more about the Earth's geological history, Google Maps can help.
Google has just released panoramic imagery of one of the world's most spectacular national monuments: the Grand Canyon.
These beautiful, interactive images cover more than 75 miles of trails and surrounding roads, making our map of this area even more comprehensive, accurate and easy to use than ever before.
Take a walk down the narrow trails and exposed paths of the Grand Canyon: hike down the famous Bright Angel Trail, gaze out at the mighty Colorado River, and explore scenic overlooks in full 360-degrees.
You'll be happy you're virtually hiking once you get to the steep inclines of the South Kaibab Trail. And rather than drive a couple hours to see the nearby Meteor Crater, a click of your mouse or tap of your finger will transport you to the rim of this otherworldly site.
The Trekker?
This breathtaking imagery collection was made possible with the Trekker. The Google team strapped on the Android-operated 40-pound backpacks carrying the 15-lens camera system and wound along the rocky terrain on foot, enduring temperature swings and a few muscle cramps along the way.
Together, more than 9,500 panoramas of this masterpiece of nature are now available on Google Maps. See the stunning video here: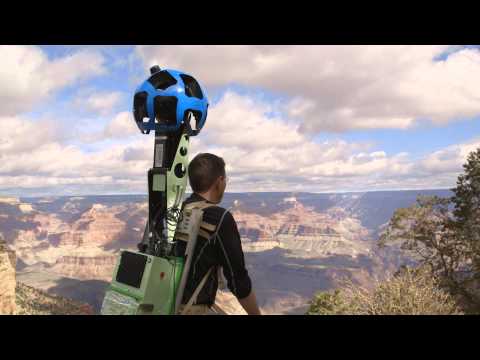 Other Cool Mapping Features?
Below we have listed some remarkable or even stunning examples of mapping for you.
Check-in At Mars? With Foursquare & NASA You Can.
A Google Deep Dive: Now Mapping Oceans?
Instagram's Photo Maps Conquer The World.
Follow Team HTC-Columbia On Google Maps.
Google Maps Shows Australian Shark Attack?!
UK Teens Illegal Pool Crashing Via Google Earth.

What About You?
What are your best rated mapping features? Please drop your links in the comments below and let us all enjoy them. Sharing, is caring.
Follow & Share
Want more social insights? Browse our category Social Media, follow Igor Beuker on Twitter, grab our RSS Feed, join our Facebook movement or subscribe to our weekly e-mail newsletter.
About the Author
Igor Beuker was CMO at 3 listed companies, chairman at the IAB, jury member at Webby, AMMA and Esprix awards, founder of 3 digital agencies (sold to WPP) and global chief social officer at Mindshare. Now he is 'freejack' consultant and a sought after keynote speaker.