KLM Fly2Miami: It Started With A Tweet?
KLM Royal Dutch Airlines is showing great social DNA again. The airline has invested in a massive social media team and proves that smart social marketing is all about listening, dialogues and social interactions.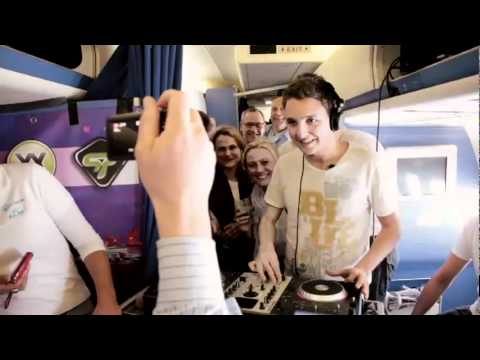 It all started with a tweet, might sound like a cheesy song? But in fact, it's an amazing social story.
What happened? KLM announced on Twitter that they would be re-opening their Amsterdam-Miami route on 27 March 2011.
A Dutch DJ and a filmmaker responded with disappointment to KLM, since that flight would be too late for the DJ festival starting a week before that. They told KLM that they could easily fill up that plane. KLM took up their challenge and guess what? In only five hours the DJ and filmer managed to collect 150 subscriptions for the flight.
The flight to Miami should be standard in KLM's future offerings. DJ's, VJ's, MC's, loud house music, cocktails and an on-board party. KLM should claim Ibiza in a similar way during the summer season! Commercial idea?
To CMO's that are still considering social media marketing, please take a look at KLM. To summarize the heart of their approach for you crisp and clear: KLM is clearly shifting away from traditional advertising towards a model that is more content-driven, engaged and focused on consumer dialogue.
KLM understands that social media is not just another "channel" that will create extra reach – by launching intrusive pop-ups and homepage take-overs.
KLM is also closing the loop in marketing in many ways. And you can see that Customer Persona and Social CRM are part of their DNA.
How about great and relevant content and an ever organic growing SEO presence with the KLM Blog? If you want to stay tuned on KLM blog posts, just try to subscribe to their digital newsletter.
In 2 seconds you will get a confirmation e-mail and when you click the link to confirm, you are immediately taken to a page where you can select your topics of interest, so KLM can personalize their follow-up information for you.
My Opinion?
Too many brands and their CMO's still do not have an opt-in e-mail database. They are spending millions of Dollars on Paid Media campaigns, but content creation and a monthly e-mail to fans and followers is giving them too much stress and hassle.
That mentality and some of the lame excuses, make me really worried sometimes: "We would like to do it, but we do not have the FTE´s and we do not have the time". If you have teams working or PPM's and TV commercials, if you are brave enough to spend millions on GRP's, have the guts to get your brand team together or pay your agency 1 FTE to start it for you.
To help CMO's in their social decision making: Your brand is one of the most valuable assets. So stop making excuses and start to refresh your brand using social media.
Because social media is the pain reliever we all needed so badly. The medicine that makes advertising welcome in our lives again.
What About You?
How you like this KLM approach? We'd love to read your opinion in the comments below.