KLM's Happy Holidays Flight: Surprising Travelers Again.
On a stormy autumn day, KLM stewardess Nathalie is surprising travelers at Amsterdam Airport with a very special Christmas present. Welcome to KLM's Happy Holidays Flight.
Just before their Chicago-bound flight, these lucky KLM passengers were invited to take a seat in a festive Christmas-themed business class theatre. While still enjoying their upgrade-gift they could put up their feet and await further events.
Once airborne, a Happy Holidays show was performed by the famous Amsterdam based comedy institution Boom Chicago.
And of course, Santa did not forget about all the other passengers on board and made a merry tour around the aircraft.
"KLM's Happy Holidays Flight is another one of our small acts of kindness, because deeds speak louder than tweets! We just love surprising our customers every now and then", KLM stated.
Below video shows a deeper and broader social experience, inviting viewers to share their good deeds of the past year with KLM. Some of them too will be surprised with a personal Santa gift.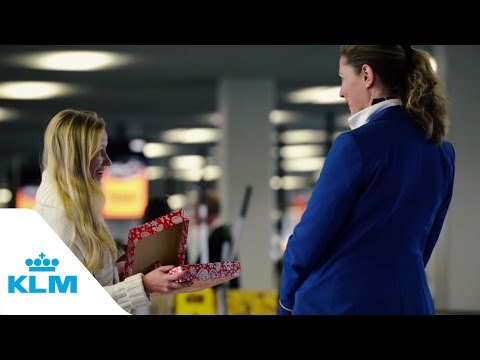 My Opinion?
KLM is not only trying to surprise its travelers during Christmas. Throughout the years, we have been covering the social DNA of KLM, and its transformation to becoming a true social business.
KLM clearly aims to give its passengers an inspirational journey, from booking to baggage collection. Not just flying its passengers from destination A to B.
KLM does its utmost to provide optimal customer service. This is the idea behind the 'Journeys of Inspiration' concept launched four years ago. The latest Happy Holidays action is another example which fits into this promise.
One of the KLM "social campaigns" I like the most is Fly2Miami – it started with a tweet in which KLM showed to be socially organized well enough, to turn a social dialogue into something very special.
Social seating service Meet & Seat is a disruptive innovation that goes beyond marketing. It shows a social DNA that is willing to go that extra mile.
What About You?
How do you like Happy Holidays Flight? Or KLM's approach to social media? We'd love to hear your opinion in the comments below.
Follow & Share
More social inspiration? Select our category Social Media, follow Igor Beuker on Twitter, grab our RSS Feed or join our Facebook movement.