Should CMOs Buy Their Way to Social Media Fame?
How many CMOs have been buying their way to social media fame? Should brands buy Facebook likes and Twitter followers?
I often use: Go big, go niche or go home during my keynote speeches. Because I have met too many global CMOs that are only buying their way to social media fame.
Trust me, bigger is not always better. For those searching for a shortcut to social media fame and fortune, new friends should be earned, not bought!
Read these insights and watch the video. Because your brand is your largest asset!
Should Celebs Buy Their Social Media Fans?
While purchasing friendship (or at least influence and power) is hardly a novel idea. But Justin Bieber did not buy followers. Still he has so many fake ones. Same goes for Lady Gaga.
ustin Bieber currently has 37.6 million Twitter followers, narrowly beating Lady Gaga's 36.2 million.
According to SocialBaker's analysis, Bieber actually only has 19.5 million (52%) genuine followers, while Gaga has 13.7 million (38%).
The extent to which some seekers of Internet popularity go to gathering a multitude of new friends and followers is certainly unprecedented.
Celebs and other public figures rack up huge numbers on social media, thanks in large part to phantom friends.
Should Politicians Buy Their Social Media Followers?
But laying down the lucre to create the impression of popularity can backfire in a big way.
Republican presidential hopeful Mitt Romney learned this the hard way in 2012, when a jump of nearly 120,000 Twitter followers in a single day lead to suspicion and ridicule in the media.
Then again, depending on the metric and the existing visibility of your profile (say, for example, whether or not you're a candidate for the highest office in the United States of America), it's also very possible that buying followers could turn out to have almost no impact on your social media sway.
Should CMOs Buy Their Way to Social Media Fame?
Public opinion on fake followers is a mixed bag. The general consensus seems to be that buying fake followers can be a useful tool—but only if it's not obvious they're fake.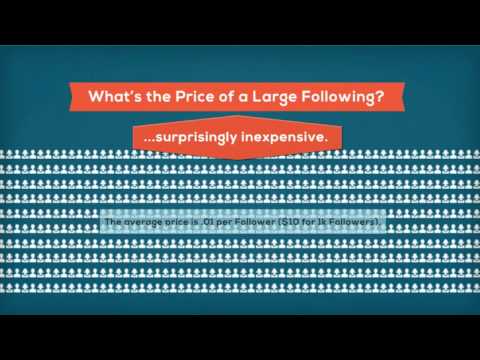 Big numbers can help entice real folks to follow you thanks to something known as the Bandwagon Effect, and companies who use their fake followers as leverage to attract genuine ones may gain actual influence.
On the other side of the equation, brands and individuals more concerned with authenticity than quick gains often review their followers carefully, using analytic tools to help weed out phonies and keep their tribes "legit."
My Opinion
No one is immune to the onslaught of spam and fake profiles filling Twitter, a problem that appears to only be getting worse.
It turns out, even the likes of the Bieber and the President are being barraged by these faux accounts.
So should CMOs buy their way to social media fame?
As with any marketing effort, the answer will vary with your brand and your social media goals.
Garnering a large number of followers can help your reputation in your market, but those gains can quickly be outstripped by the damage that comes with having your fake follower empire exposed.
No matter what you choose to do, remember that landing real followers—and their purchasing power and influence—is the ultimate goal.
Remember that social media will make everything transparent. And since your brand is your largest asset: don't buy or bribe your social media fame.
Respect, friends and followers must be earned.
What About You?
So what should Facebook and Twitter do to reduce the so many fake accounts? What should CMOs do? We all get smarter from peer discussions, so share your ideas.
Follow & Share
Want more stories on breaking with the status quo? Browse our category Viral & Social Video, join us on Twitter, LinkedIn, Facebook, GOOGLE+, RSS or get our weekly e-mail newsletter for updates and free bonus content.
About the Author
Igor Beuker is an acclaimed trendwatcher & pro speaker, serial entrepreneur, marketing consultant and board member at several disruptive media, technology and entertainment firms. Book Igor as keynote speaker, follow Igor on Twitter or connect to him via LinkedIn.