The Best Van Persie Flying Dutchman Goal Newsjackings
Most people around the world probably have heard of our own Flying Dutchman Robin van Persie by now. Last Friday he scored the first Dutch, and most amazing, goal of the World Cup so far.
So, what has Van Persie done?
Last Friday Dutch footballer Robin van Persie scored the first Dutch goal in the match between The Netherlands and Spain. And what a goal it was! Take a look:
Of course, brands and companies had to newsjack this highly watched event! Let's take a look at some of the most inventive ones.
Even the Americans had to newsjack the goal: cue The Flying Dutchman.
Calvé is a Dutch peanut butter brand (amongst other things), the tagline roughly translates as "Who hasn't grown up with it?", indicating that Van Persie's goal most likely resulted from him eating Calvé peanut butter as a kid 😉
Dutch newsjacker Jordi v/d Bovenkamp (the famed @JOR_ID on Twitter) came up with this 'new Twitter logo'. And of course it was picked up by the World Cup itself!
And now for my personal favorite: STABILO made a stop motion flipbook from post-its showing the goal. Take a look at the amazing video below: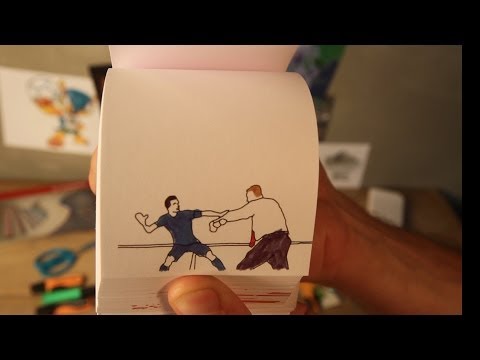 My Opinion
I always love checking out creative newsjacks, I think we could all learn a thing or two from the few I've shown you.
It's always the question who will come up with the best one the quickest, just like Oreo when there was a power outage during the Super Bowl in the US.
This goal was another one of those events that was perfect for Flying Dutchman references, but I must say the stop motion flipbook wins the cake!
What About You?
What is your favorite? Have you found any other great newsjackings? Let us know!
Follow & Share
Want more stories on social media stories? Browse our category Social Media, join us on Twitter, LinkedIn, Facebook, GOOGLE+, RSS or get our weekly e-mail newsletter for updates and free bonus content.
About The Author
Marion aan 't Goor is a Social Media Consultant. You can connect with Marion via Twitter and LinkedIn.