Toy Story 3: Viral Video Meets Nostalgia
It seems like forever ago that Pixar released the first feature film ever to use only computer-generated imagery: Toy Story. That's where we met Woody and Buzz Lightyear, back in 1995. Now, 15 years later Pixar is about to release Toy Story 3.
Disney already started its marketing efforts last year, as Disney released the first teaser together with the launch of the animated film Up. And more recently, Steve Jobs demonstrated iAd in a Toy Story 3 theme at the iPhone OS 4.0 event. And now with the release date, June 18th, closing in, Disney tapped in to a powerful marketing tool: online video. They found a cool way to combine viral video with nostalgia..
Online video is becoming an increasingly important aspect of marketing. With 24 hours of video being uploaded to the YouTube every minute, it's more important than ever to create powerful and distinctive content. And what's even more important is to first think, than act; in other words: create a strategy around your viral campaign. That is exactly what Disney did when they created the YouTube account MrCrazycommercials.
In order to introduce a new Toy Story character, Disney recreated commercials from the 80's featuring Lots-o'-Huggin' Bear. The commercials feel authentic, capturing the vibe of the 1980's. Music, colours and even the VCR effects are included.
Lots-o'-Huggin' Bear Commercial (circa 1983)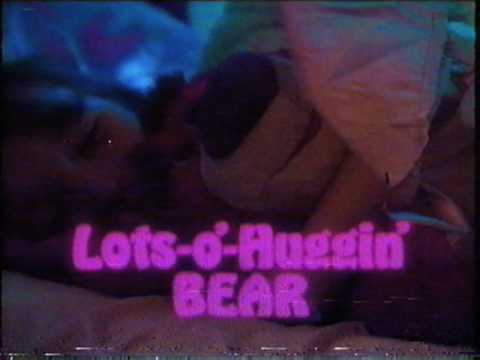 The video is uploaded to MrCrazycommercials channel. A make-believe classical commercials lover, who did not only include Disney's video but also favoured some actual 1980's TV spots. The Lots-o'-Huggin' Bear video description is in line with the concept saying:
"I totally had one of these growing up. I don't even know what happened to it. My mom probably put it in the attic. I don't like going in there, so it's as good as gone."
Judging from the comments on the video, having a well thought through strategy, concept, implementation and execution works:
I never had one, but the kid down the street had one. actually, i think he had two. man, i hated that kid.

well, disney/pixar, you've done it again – great marketing! Its like that commercial was really from my childhood!

I love how so many people are getting busted for saying "I remember having one of these!" LOL

I wanna hug-o-bear thingy! To bad it don't exist.
The video was uploaded to YouTube just days ago and already gotten over 500.000 views: a viral hit with great potential to spread beyond YouTube. Our friends at ViralTracker offer a video tracking solution which helps brands to track and measure reach and response of their videos, as well as engagement. By tracking your viral content on all video platforms, you will be able to increase your ROI, improve your reach, gain valuable market insights and optimise your creative output.
Maybe it is because I am a sucker for the 80's, but I love Lots-o'-Huggin' Bear. Brilliant. How do you feel about it?
Source: All things digital