Insomny Coffee Sells All You Can Watch VoD For CANALplay
Why would you go to sleep when you could be binge-viewing all night long with an all you can watch subscription filled with films and TV series at CANALplay?
Agency Buzzman from Paris (France) has invented Insomny Coffee for CANALplay. Insomny is available in beans, ground or as nespresso compatible capsules. People can order the coffee online or buy it at selected supermarkets.
Discover how coffee is selling CANALplay in a highly competative VoD market, with powerhouses like Netflix, Amazon and the local VoD players.
Insomny Coffee: Selling VoD for CANALplay
For the price of €4.99 people can buy a pack of Insomny Coffee with a code that offers a 2 month free trial for CanalPlay.
In the video below you can see the action mechanism, the on-pack code and the redemption of the code online: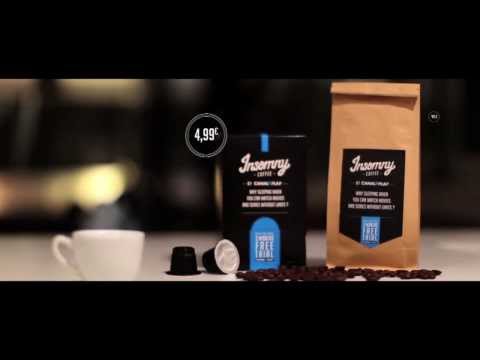 If you are interested in Mobile, 4G and the role of the Cable and Telecom companies, read this story.
If you want to know more about the re-evolution of the medium television, watch this SlideShare presentation.
Maybe you'd like to read about Netflic and Amazon are creating kids series?
Discover what binge-watching or binge-viewing is on Wikipedia.
Or watch the Kevin Spacey speech about House of Cards, non-lineair TV and binge-watching.
My Opinion
Watching films and TV series is about the experience and sharing that experience with friends or peer movie freaks via social media or IMDB.
With these insights agency Buzzman could have gone for sharing a cup of coffee with friends while watching movies all night long. Nevertheless, I very much like their approach.
The VoD players however have not been impressing me so far. Many of them are under pressure with their all you can watch SVOD offerings.
The reason consumers are not very happy is that not even an original series like House of Cards can make up for the outdated library of Netflix.
And SVOD players like Netflix have the problem that people can not order a day movie (a new one outside of their SVOD bundle) for i.e. €4.99 extra via TVOD.
Not many players offer SVOD + TVOD, and that is certainly a weakness compared to i.e. Canal+ and HBO. They offer both montly subscriptions for movies and TV series, as well as single new films that can be ordered (TVOD).
Companies like Netflix should better understand the perception of their targets towards all you can watch promises.
Subscribing to a limited and outdated all you can watch library at Netflix for €7.95 a month is not to be compared to getting all the music in the world at Spotify for €9.95 a month.
Spotify is the true all you can eat offering, and consumers and journalists have noticed the perception as well. So Netflix needs to work on their offering and price perception: improving their video library or add TVOD (like HBO) as well.
Otherwise it might be smart to check their price-scheme one more time.
Also sharing the experience of watching a movie is not very well integrated in the Netflix or Amazon Prime platforms.
It's by far not very social, and certainly not Social TV yet. Some extra non-linear thinking would probably help the VoD players.
I hope enough info, content and links in this story for you to make up your mind?
What About You?
Will Netflix win the battle for VoD or will Amazon (Prime and IMDB) demolish Netflix? Maybe HBO or a local player will grab the largest piece of the VoD pie in your local market?
Follow & Share
Want more stories on breaking with the status quo? See our category Trends & Innovations, join us on Twitter, LinkedIn, Facebook, Pinterest, RSS and get our weekly E-mail Newsletter for updates and free bonus content.
About the Author
Igor Beuker is a serial entrepreneur, acclaimed trendwatcher & speaker, marketing consultant and advisory board member at several disruptive media, technology and entertainment firms. Book Igor as keynote speaker, follow Igor on Twitter or contact him via LinkedIn.
Source: Adverblog.