Kevin Spacey Speech: TV Channels Give Control To The Viewers!
Double Oscar-winner Kevin Spacey has challenged TV channels to give "control" to their audiences or risk losing them. Read the story and watch his speech here on ViralBlog.
Why is everyone in the TV and Tech industries sharing this great speech by Kevin Spacey?
Maybe because we need more non-linear minds like Spacey?
Kevin Spacey Speech on Netflix & Non-Linear TV
In an edited version of Spacey's speech (below) he touches non-linear TV, multi-screen, new distribution ways, disrupting the cable and TV model, Netflix and more.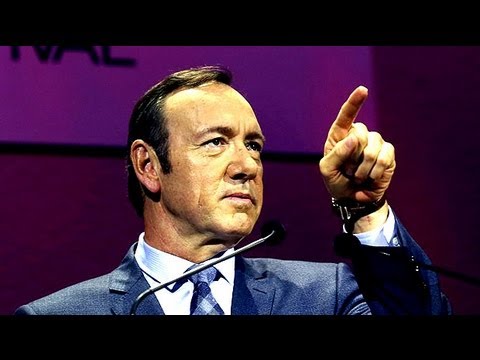 One of the most remarkable parts of Spacey's empathic speech to me were:
"Netflix was the only company that said: 'We believe in you. We've run our data, and it tells us our audience would watch this series. You don't need to do a pilot".
Well if you have heard that specific line, you will understand how important big-data is going to be for broadcasters, publishers and brands.
So please understand that big-data is not a hype. It's the key ingredient that you'll need to make the smartest possible strategic decisions.
House of Cards: the Audience Wants Control
The Hollywood star, whose recent foray into television -House Of Cards- has been a commercial and critical hit after it was released on streaming service Netflix.
Spacey, who gave his keynote at the Edinburgh Television Festival a week ago, said:
"Clearly the success of the Netflix model – releasing the entire season of House Of Cards at once – has proved one thing: the audience wants control. They want freedom. If they want to binge – as they've been doing on House Of Cards – then we should let them binge."
The Lessons The Music Industry Did Not Learn
The actor also said that way of working:
"demonstrated that we have learned the lesson that the music industry didn't learn – give people what they want, when they want it, in the form they want it in, at a reasonable price, and they'll more likely pay for it rather than steal it".
Spacey, who starred in and was also executive producer on the show which was nominated for nine Emmy Awards, warned the audience of media executives that "labels" were becoming meaningless and they risked being "left behind".
He also made these important statements:
"If you watch a TV show on your iPad is it no longer a TV show? The device and length are irrelevant …For kids growing up now there's no difference watching Avatar on an iPad or watching YouTube on a TV and watching Game Of Thrones on their computer. It's all content. It's all story."
"And the audience has spoken. They want stories. They're dying for them .They're rooting for us to give them the right thing. And they will talk about it, binge on it, carry it with them on the bus and to the hairdresser, force it on their friends, tweet, blog, Facebook, make fan pages, silly GIFs, and God knows what else about it. Engage with it with a passion and an intimacy that a blockbuster movie could only dream of."
My Opinion
I have been giving similar passionate keynote speeches on the revolution of the medium Television for over 7 years now.
Honestly? It was the song that no Record Label, Cable Network or TV Station wanted to hear. The "song" that was skipped, zapped away and sometimes heavily criticized.
First that criticism from important people made me nervous, but over time I developed a thick skin, and more important: the willingness to be misunderstood for a long period.
If you tell a message that you genuinly believe in and that you have conviction about, that is the key part of being a trendwatcher. And luckily for me, karma has no deadline and the truth has set me free in the end.
To Kevin Spacey: I am curious if you would have been giving similar, speech if House of Cards had not been created? Nevertheless, better late than never. So thank you for your inspiring speech. I am convinced it will have impact on many linear minds!
I am writing a book on the future of the medium Television. I hope to have it finished by the end of 2013, but no doubt it will receive criticism again. But again, I will have to show the willingness to be misunderstood for quite a while.
Currently I am working on 2 new stories:
1. The video battle of Amazon vs. Netflix vs. Hulu.
2. Twitter and its next steps towards Social TV.
If you'd like to be the first to know, subscribe to our weekly newsletter.
What About You?
What inspired you in the Kevin Spacey speech? Or, how do you see the future of Television? Let us know in the comments below.
Follow & Share
Want more stories on breaking with the status quo? See our category Trends & Innovations, join us on Twitter, LinkedIn, Facebook, Pinterest, RSS and get our weekly E-mail Newsletter for updates and free bonus content.
About the Author
Igor Beuker was CMO at 3 listed companies, chairman at the IAB, jury member at Webby, AMMA and Esprix awards, founder of 3 digital agencies (sold to WPP) and global Chief Social Officer at Mindshare. Now he is freejack consultant and still a sought after keynote speaker.