How Race Yourself Gamifies Fitness On Google Glass
With the Race Yourself app, fitness seems like becoming a perfect fit for Google Glass.
At first, Google Glass doesn't seem to have the best added value for your exercise.
I cannot imagine running with that thing on my face.
But it seems that with Race Yourself, an app concept by a London startup, has big potential to become a succesfull app.
With this you can exercise against friends or personal records or even escape from zombies that try to catch you, while running your favorite routes.
Race Yourself  has successfully seed funded over £100,000 in its campaign on crowdfunding platform Crowdcube.
The concept seems to be inspired by the functionalities from Nike Fuel Band and RunKeeper.
The app also adds gamification to specific exercises using the Google Glass possibilities.
All data from that specific exercise is being projected on the glasses.
It even can guide you when you're experience an injury.
Check the a video of the app here: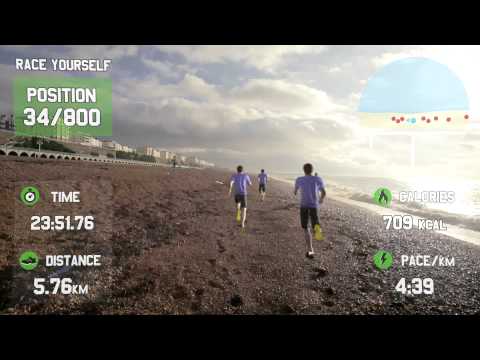 My Opinion?
I really like the idea of this app. Could definitely bring more fun while exercising.
I also like the approach as seen in the video: promote it in a 'GoPro' kind of way.
I'm still not quite sure that Google Glass would be that great to exercise with, but perhaps a sports version and outdoor version will  be the solution of that?
What About You?
Would you buy something like this to help you get out and exercise?
If you're interested, you can pre-order it at Raceyourself.com
Follow & Share
Want more stories on breaking with the status quo? Browse our category Viral & Social Video, join us on Twitter, LinkedIn, Facebook, Pinterest, RSS and get our weekly E-mail Newsletter for updates and free bonus content.
About the Author
Laurens Bianchi is an independent online (sport) marketing professional from the Netherlands and has been blogging on ViralBlog since 2008. Currently Laurens is also the Social Media Consultant for the Royal Dutch Football Association. Follow him on Twitter or contact him on LinkedIn.