#Sambahack: FIFA World Cup Site Hacked With Dancing Blatter
The FIFA 2014 World Cup website was hacked last Sunday night, in attempt to bring justice to Brazil ahead of World Cup in 2014.
Whilst many Brazilians currently take to the streets during the Confederations Cup to protest against their government's mega-spending projects ahead of next summer's World Cup, FIFA came under attack from a hacker with a comedy twist.
After taking a closer look, it seems that the website is actually not hacked. The website is fake, with an exact template of the official FIFA World Cup page.
FIFA President Sepp Blatter was the focal point of the hack, as a cartoon version of the Swiss appeared in a flamboyant Brazilian outfit to dance to background music.
The campaign is supported with #Sambahack and users are invited to share the hack on Facebook and Twitter.
Take a look at the video below to see the hack: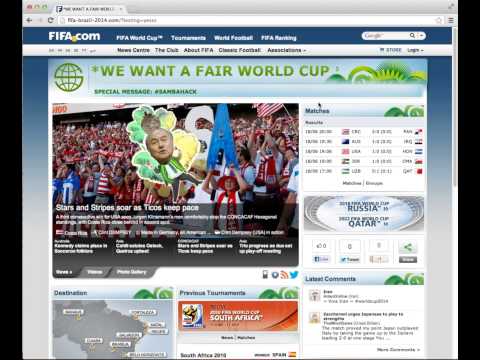 The campaign is made by a Swiss group called Solidar Suisse.  The group's aim is to avoid a repeat of what it calls "the debacle of the 2010 World Cup in South Africa".
My opinion?
I think it's a simple but clever move to raise awareness for a cause. A FIFA spokesperson mentioned:
"We can confirm that the URL which you mention is and never was owned by FIFA. Therefore please understand that we do not wish to comment any further."
And that's exactly what Solidar Suisse needed: being aknowledge by FIFA and raise awareness amongst football fans. According to the site, the high-profile stunt has already amassed over 315,000 followers and it looks set to continue.
What About You?
At ViralBlog we don't discuss political situations, but we do look forward to your opinion on the approach from a marketing point of view. Do you like the concept? And why?
Follow & Share
Want more stories on breaking with the status quo? Browse our category Viral & Social Video, join us on Twitter, LinkedIn, Facebook, Pinterest, RSS and get our weekly E-mail Newsletterfor updates and free bonus content.
About the Author
Laurens Bianchi is an independent online marketing professional from the Netherlands and has been blogging on ViralBlog since 2008. Currently Laurens is also the Social Media Consultant for the Royal Dutch Football Association.