US Open Plans Giant Social Media Wall
The US Open has planned a giant social media wall of 50 wide by eight feet tall, in addition of the many entertainment options the event already offers to tennis fans.
From August 26th through September 9th, 50-by-8-foot video wall will be placed next to Louis Armstrong Stadium, to display real-time social media commentary.
The official hashtag for the event is #usopen, fans will easily be able to share their photos, thoughts, and ideas, while keeping a keen eye on what is trending.
This wall is great for the awareness of the event, as well as awareness of the three sponsors of the social media wall:  Xerox, Esurance, and Chase.
The video wall will aggregate not just Tweets, but also relevant content will be pulled from social networks such as Facebook and Instagram.
All relevant content will also be displayed on usopen.org te keep  fans on site up to date on what's trending.
The feeds will be monitored, reviewed and aggregated by IBM and IDS.
IBM deployed a similar effort at last year's event. The 'Game Changer Wall' combined analytics and competition data. See the video below:
My Opinion?
I'm a big fan of giving a social treatment to sport events, great for awareness, great for engagement. So I really like the idea of the US Open Social Media Wall.
But this isn't the first sport event that brings social media closer to fans around stadiums and event grounds.
San Francisco Giants @Cafe
MLB's San Francisco Giants have an @Cafe inside AT&T Park that displays trending Giants-related tweets, Facebook posts and Instagram photos as well as check-ins and polls on a 12-by-4-foot social wall.
New Jersey Devil's Mission Control
The New Jersey Devils have selected 25 social media savvy fans and named them the Devils Army Generals, through Facebook and Twitter to act as the voice of the team's fan base using Devils' social media platforms.
These "army generals" go by the handle @DevilsGenerals and are active in the social media command center of the Devils: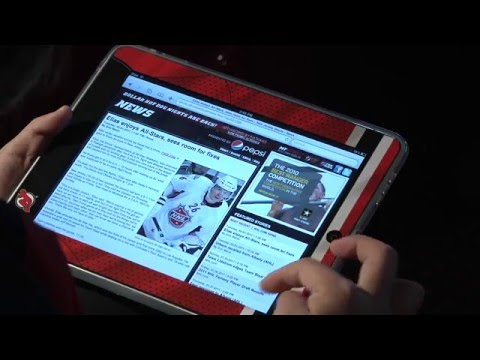 The US Open social media wall is great, but it would be even more awesome if fans could actually have an active role, such as the Devils has done.
What About You?
What do you think of the social media wall? Do you think the US Open should let fans have a more active role regarding their social media efforts? Any ideas to make this concept cooler?
Follow & Share
Want more stories on breaking with the status quo? Browse our category Viral & Social Video, join us on Twitter, LinkedIn, Facebook, Pinterest, RSS and get our weekly E-mail Newsletter for updates and free bonus content.
About the Author
Laurens Bianchi is an independent online (sport) marketing professional from the Netherlands and has been blogging on ViralBlog since 2008. Currently Laurens is also the Social Media Consultant for the Royal Dutch Football Association.
Photo social media wall: Artist's rendering from USTA
Photo US Open event ground: USOpen.org