20 Interactive Vending Machines Campaigns
Vending machines are everywhere, delivering just about anything you can think of, from snacks, beverages, alcohol, eggs to cigarettes, lottery tickets, pizza and lobster.
The first reference of a vending machine dates back to 215BC in the work of  Hero of Alexandria. The Greek engineer and mathematician invented a coin-operated machine that dispensed holy water.
Many centuries later (around 1880) the first commercial coin-operated vending machines were introduced in London, England and dispensed post cards and books. Today the vending industry is a $40 billion to $50 billion dolar business (source: Cisco).
Traditionally, vending machines have been "dumb" analog devices: put in a dollar, get a product. But that image is about to change as unattended retailing/vending is evolving and is now at a technology and sales tipping point, as machines become smart, networked devices for the ongoing quest for more convenience and a better consumer experience.
The changing vending landscape is also changing the consumer experience, in three important ways:
1. Technology is enabling more convenient, engaging interactions (e.g. iSample)
2. Vending is becoming a point-of-purchase marketing opportunity
3. Consumers are now buying higher-priced goods from vending (e.g. MediaMarkt toGO)
In the age of social media, marketeers have used this evolution in recent years to create innovative, interactive, engaging digital (gifting) campaigns/activations/experiences with enhanced 'social' vending machines to catch the consumers' attention. From the Simba Ghost Pops vending machine campaign in 2007 (see video), the Coca Cola Happiness vending machine in early 2010 to the Delite-o-matic vending machine in the summer of 2012, below an overview of 20 notable campaigns involving vending machines:
Coca Cola: Happiness Machine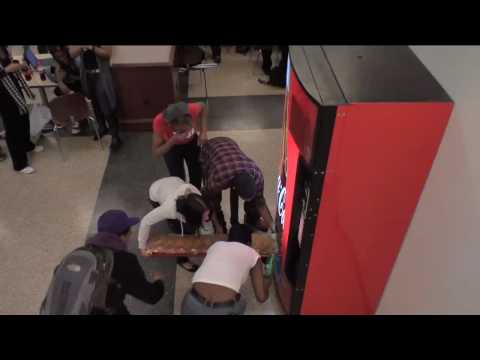 The first Coca-Cola Happiness Machine in the United States was launched on January 12, 2010. A Coca-Cola vending machine was transformed into a happiness machine delivering "doses" of happiness on a college campus in New York. Since its launch, the Coca-Cola Happiness Machine has received over 4 million views on YouTube and has inspired the Coca-Cola Happiness Truck, Coca-Cola Happiness Store and many other brands to create interactive experiences with vending machines. (source: Coca Cola)
Coca Cola: Friendship Machine
Dia del Amigo is a celebration of friendship, held annually on July 20 in many parts of South America, particularly in Argentina, Brazil and Uruguay. In 2010 Coca Cola developed a special outdoor campaign in honour of the day, with the Coca-Cola Friendship Machine. The 3.5 meter tall machine, placed strategically in seven South and Latin American countries, offered passers-by two Coke bottles for the price of one. To take up the offer, potential customers needed to collaborate to reach up to the machine slot. (source: the inspiration room)
Coca Cola: Happiness Machine for Couples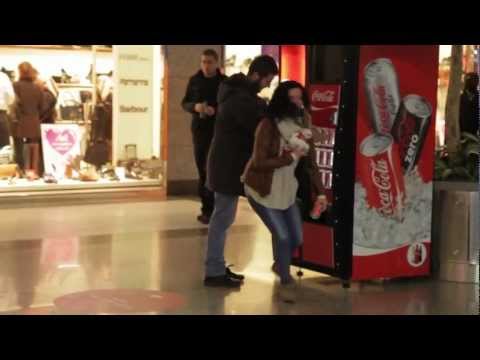 Coca-Cola's worldwide Happiness campaign made a stop at one of the busiest shopping malls in Istanbul this past Valentine's Day. The special coke vending machine featured secret cameras and was remotely operated and designed especially for couples. However, to get it to work people would have to choose they were a couple by sneaking a kiss or hugging. The experience was created by Istanbul agency C-Section. (source: Randy Matheson)
Coca Cola: Send a Coke Around The World
In 2011, Google partnered with Coca Cola in Project Re: Brief to re-imagine and re-create the 1971 iconic 'Hilltop' commercial for a modern audience in the digital era. Fulfilling the promise of the original ad ("buy the world a Coke"), the duo made it possible to connect with strangers by sending a Coke around the globe to an unsuspecting recipient, making the world feel just a little bit smaller. Google technologies coupled with custom-designed Coca Cola vending machines enabled viewers truly to 'buy the world a Coke', with just a few taps on their mobile phones. (source: Cannes Lions)
Coca Cola: Hug Me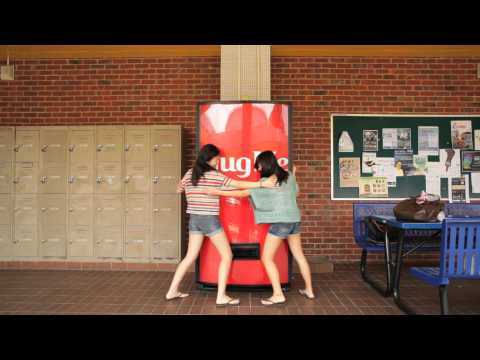 Students at the National University of Singapore (NUS) got pleasantly surprised in March of this year when a Coca Cola vending machine was placed overnight with the words 'Hug Me'. What makes this unusual vending machine special is that it responds to physical hugs before dispensing a free can of Coke. Public displays of affection are uncommon and have long been discouraged in Singapore, but are on the rise amongst young people. The move is part of a campaign created by Ogilvy & Mather Singapore, intended to position the brand as a non-threatening ally to demonstrating youth. (source: PSFK, Ogilvy & Mather)
Coca Cola: Dance Vending Machine
For this South Korean marketing experiment, the soda behemoth utilized Microsoft's Kinect technology in its vending machine to engage with customers and building brand love through digital + physical experiences. The Coke Dance Vending Machine challenged people to replicate dance moves from the Korean boy band 2PM being played on the machine in exchange for soda. The built in sensors and webcams recognize human interaction. The better they dance, the more bottles of Coke they are rewarded with. (source: The Fire Wire, SingularityHub)
Coca Cola Zero: Unlock the 007 in you
Unsuspecting passengers that stopped to get a Coke zero at Antwerp Central were given a task in addition to getting a drink. A female violinist played the Bond theme as the machine offered the passengers chance to win free tickets to Skyfall. The machine display asked passengers to enter their name and 'go to platform 6'  in 70 seconds. Hidden cameras filmed the participants in their race to the platform, that included Bond-style obstacles. Arrived at the platform the participants only still needed to sing the Bond theme to obtain the free tickets. The Skyfall stunt was created by Duval Guillaume Modem. (source: Zdnet)
Fantastic Delites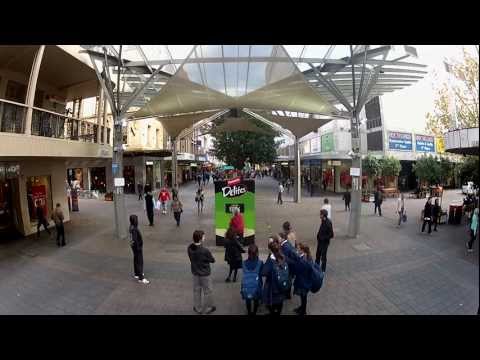 Ad agency Clemenger BBDO Adelaide and production company Anifex combined their efforts to come up with an innovative way to promote the Australian rice snack brand 'Fantastic Delites' by creating the special vending machine Delite-o-Matic. The ambient and interactive advertising campaign challenged people (to the extreme via gamification) online and on the street to prove that because Fantastic Delites taste so good, people will go to incredible lengths to get their hands on them. (source: Ads of the World)
Rugbeer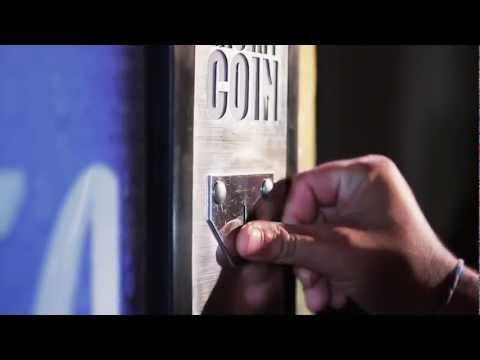 Argentina is the country with most football fans in the world. But in the north, in the Salta province everybody loves rugby. To give rugby fans a unique experience Salta Beer and Ogilvy Buenos Aires introduced The Rugbeer Machine, an unique vending machine that runs on tackles, not coins. In order to dispense one cold Salta Beer one needs to ram the machine. Rugbeer was so successful that it toured the region, leading to 25% more beers sales in the bars that it visited. (source: Ads of the World, Digital Buzz Blog)
Kenco
To mark the launch of Kenco Millicano (a brand of Kraft Foods) in vending machine form, Arc London and Leo Burnett London created Kenneth, an interactive talking vending machine and placed it in Soho Square. Kenneth appeared to be a normal vending machine. However, Brits in search of a caffeine hit soon discovered that 'great coffee speaks for itself' – quite literally. With the help of a hidden comedian, Kenneth chatted to people while dispensing free cups of Kenco Millicano – sometimes even asking them to do something a little bit silly in reward for their free cup. (source: LBBOnline, Adweek)
Tourism British Columbia
Tourism British Columbia placed a giant, 14-foot tall, 10-foot wide vending machine in Justin Herman Plaza in San Francisco for a few days, opening the locals up to a whole new world of British Columbia holiday experiences. Those who interacted with "The BC Moments Machine" were rewarded with highly valuable mementos from British Columbia, including real kayaks, mountain bikes, golf clubs and surf boards. (source: the inspiration room, Digital Buzz Blog)
Unilever, Share Happy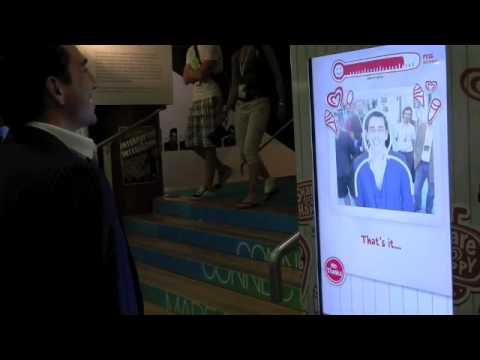 Unilever, the world's biggest ice cream manufacturer, created  in 2010 the first smile-activated vending machine. Once drawn closer to the machine, the person is prompted for a big smile and the 'smile-o-meter' measures his or her grin (facial recognition technology is used to track if a person is smiling). A photo is then taken and with permission uploaded onto Facebook. The consumer can pick out his or her free ice cream by using the touch-screen interface on the vending machine. (source: the inspiration room)
PepsiCo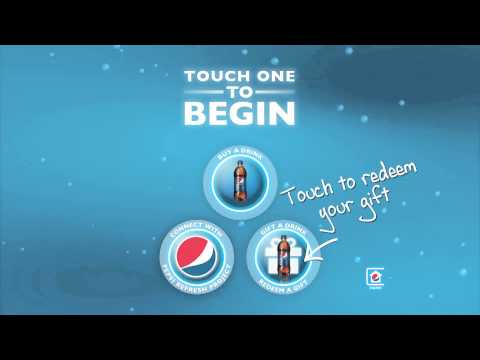 In April 2011 PepsiCo announced the launch of its Social Vending System, a state-of-the-art networked unit that features full touch screen interactive vending technology, enabling consumers to better connect with PepsiCo brands right at the point of purchase. Using digital technology, PepsiCo's Social Vending System enables any user to gift a friend by selecting a beverage and entering the recipient's name, mobile number and a personalized text message or short video recorded message right at the machine. (source: Pepsico)
Bloemenbureau (Flower Council)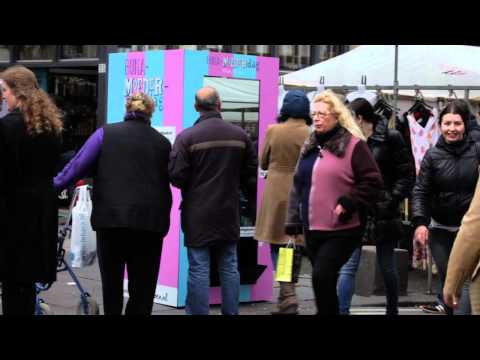 Amsterdam-based Kingsday created a campaign for the Flower Council of Holland to surprise Almost Mother's (women about to become mothers) ahead of Mother's day. The campaign involved a different kind of flower vending machine. Placed in various cities in The Netherlands, women were asked to stand in front of  the machine, only those who could prove being pregnant to the Almost Mother's Day machine (by turning around in front of the vending machine) got surprised with flowers. (source: Kingsday)
BOS Ice Tea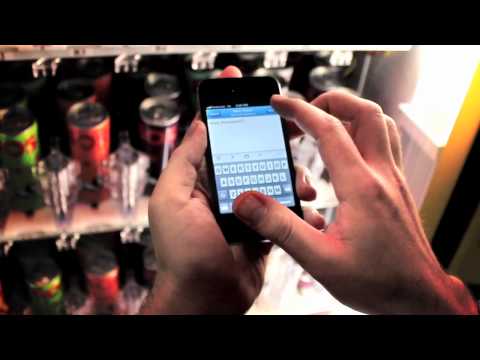 A refreshing drink for a promotional tweet, vending machine Bevmax 4-45 ('BEV, equipped with a microphone, speaker and camera') located in Cape Town just does that. Users simply have to send a tweet to the BOS account, @bos with the hashtag #BOSTWEET4T and the vending machine will dispense a free sample of BOS Ice Tea. South African beverage company BOS Ice Tea teamed up with marketing agency Cow Africa for what may well be the world's first Twitter-activated vending machine. (source: BBC, Pop-Up City)
Nokia: Foursquare Gifting Machine
Nokia and word-of-mouth marketing agency 1000 Heads teamed up to build a unique vending machine that's activated by foursquare checkins. The Nokia Gift Machine iterates 'random acts of kindness' (candies, Nokia devices/accessories, movie tickets and other goodies) to NFC and LBS-enabled vending-gifting. Watch a demo to see how it works. The Nokia Gift Machine has been placed in amongst others Dubai, San Francisco, London and Barcelona. (source: 1000 heads)
Corelle: Chip-Resistant Dinnerware
To demonstrate and promote Corelle's (a product of World Kitchen) chip-resistant dinnerware (its unique selling point), ad agency Grey China placed the unprotected plates in a custom made vending machine in targeted areas. Passersby were able to purchase a plate of their choosing and then watch as it dropped, delivered without cracks or chips. The campaign resulted in a 10% sales increase in one month. (source: Design Taxi)
Nestlé: ChocoLike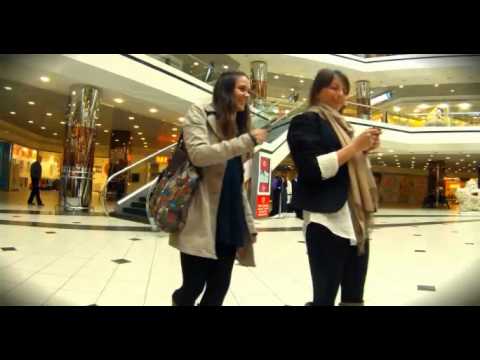 Last year Nestlé Turkey surprised random shoppers in Istanbul (Turkey) with a chocolate treat for the campaign Chocolike. Wanda Digital and Nestlé placed a vending machine in the largest shopping mall in Turkey's largest city and connected the machine to its Facebook page. Every 15 likes on Facebook resulted in a free chocolate gift (tablet consisting of 15 pieces chocolates) to a lucky person who just happened to be near the vending machine. A hidden camera recorded the reaction of the 'winners'. 55,433 liked the Facebook page during the campaign, which resulted in 3,695 ChocoLike gifts. (source: Adsector, Mixx Awards)
NOAH: Chicken Vending Machine
NOAH Menschen für Tiere (a society for the prevention of cruelty to animals) and advertising agency Publicis Frankfurt created the Egg Machine, a vending machine full of live chickens positioned in the city centry of Frankfurt, to highlight the conditions suffered by chickens kept in battery cages. At first, pedestrians shook their heads in amazement or protested loudly. Upon closer inspection, they were greeted by the message "68% of all chickens worldwide are treated like egg laying machines". (source: Publicis press release)
Lays: Potato Machine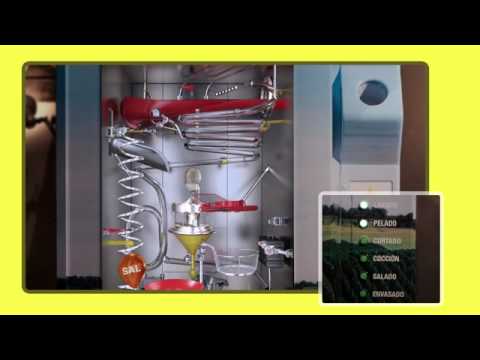 To promote the fact that potato-chips maker Lay's uses no secret ingredients,  just 100% real potatoes, vegetable oil, and a pinch of salt, +Castro and BBDO Argentina decided to use real potatoes to offer a Lay's sampling in a unique way in Argentina by inviting people to insert potatoes in an unusual vending machine: The Lay's Machine. The first Lay's machine was positioned in a Walmart in Buenos Aires. When you insert a potato the machine is activated and shows the entire process from raw potato to a Lay's chip. (source: AdAge)
More trends and innovations? Follow ViralBlog on Twitter or grab our RSS Feed to be the first to know.