Top 5 Videos In Viral Friday: What Most Schools Don't Teach
Millions of videos get uploaded, so we curate them for you in our flagship format Viral Friday. See the 5 top viral videos of this week here on ViralBlog.
Trailer created by Michiel Zwart of EditieM

This week, we selected the following five great viral videos for you:
1. What Most Schools Don't Teach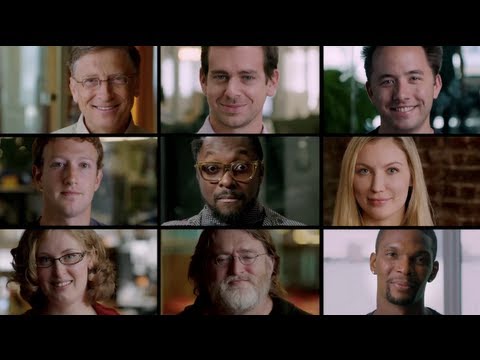 Nowadays computer programming should be part of the core curriculum in education, and every student in every school should have the opportunity to learn to code. That's the message of Code.org, a non-profit foundation in this nice video that has been watched more than 5,6 million times just 4 days, feel free to support them at code.org/donate
2. OREO Separator Machine
A machine that separates the cream out of the Oreos, as it's a basic human desire to separate an OREO cookie. David Neevel, an artist and inventor based in Portland, Oregon, was commissioned by Oreo to produce the machine as part of the "Cookies vs. Creme" campaign. Just think of the magnitude of this: children everywhere who loved Oreos, but never liked the cream, can finally enjoy their free cream cookies! In 4 days the video got more than 1,7 million views, wondering how the next separator machine will look like…
3. MYO Wearable Gesture Control
After last week's Google Glass debut, it looks like wearable tech is coming. MYO, a gesture control armband is also riding on this wave of attention. It is obvious that there is a lot of interest in this futuristic development because the explanation video got to 1,3 million views within one week.
4. Grey Poupon: "The Lost Footage"
Grey Poupon has released the "Lost Footage" edition of its latest TV spot on-line. The update to the 1981 commercial was only shown in part on television, however, the mustard company directed viewers to its website to see the entirety of the Lost Footage spot. The official description of the video on YouTube suggests that the commercial was produced a long time ago. Before the ad could be used, it vanished under mysterious circumstances. Now the two-minute clip is available for the world to enjoy. In 6 days the video got more than 1,3 million views.
5. Audi RS 4 Avant – Ultimate Paintball Duel
To promote the brand new 2013 RS 4 Avant, Audi bonnet mounted paintball guns to two of these models in an ultimate paintball duel that took place in a military aircraft hangar. Black vs. White, who will be a winner? The duel has been already seen more than 740,000 times in just three days.
What About You?
What was the viral that made you wet your panty? We would love to hear your opinion in the comments below.
Follow & Share
More viral videos? Browse all Viral Fridays, follow ViralBlog on Twitter, grab our RSS Feed, join our Facebook movement or subscribe to our weekly e-mail newsletter.