Top 5 Videos In Viral Friday: A Bad Lip Reading of The NFL
Viral video marketing used to be an art, now it's a science. We curate the millions of videos that are uploaded every week. In our flagship format Viral Friday we show you the top 5 viral videos.

This week, we selected the following top 5 videos for you… Enjoy and share.
1. Bad Lip Reading: "A Bad Lip Reading of The NFL 2015"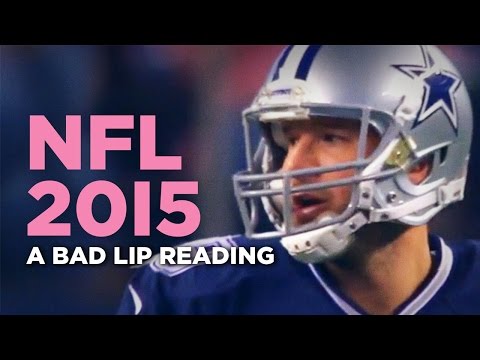 This week's viral number one is for "A Bad Lip Reading of The NFL 2015". In January 2013 BLR released the first video in the "bad lip-reading" series. Not without success, it garnered 60 million views! A second NFL video followed in 2014, that attracted 30 million watchers. Last week the third video was released. Total score so far for 2015 edition: 17 million views and nearly 150,000 social shares.
2. Budweiser: "Lost Dog"
Can a lost puppy help Budweiser find Super Bowl ad success again? The beer giant is bringing back its winning cross-species friendship theme for its Super Bowl XLIX advert this year. In the one-minute spot "Lost Dog", released on Wednesday, a lost puppy is confronted by a big bad wolf. But just in time the Budweiser Clydesdales come to the rescue. The commercial has been watched 12 million times. Total social shares: 220,981.
3. Bud Light: "Real Life PacMan #UpForWhatever"
Last year Bud Light introduced the "Up for Whatever" campaign with big stars such as Arnold Schwarzenegger, Minka Kelly, Reggie Watts, Don Cheadle. This year Bud Light takes a different approach and cashes in on some serious 80s nostalgia. Bud Light's 2015 Super Bowl commercial features a guy who gets the surprise of his life when Bud Light places him in the middle of a real Pac-Man maze. With almost 11 million views in 8 days and over 50,000 social shares it's this week's number 3 in Viral Friday. Also check out the Behind the scenes video: http://youtu.be/B0ykS7FiBzE
4. T-Mobile: "#KimsDataStash"
Kim Kardashian is the star of T-Mobile's latest Superbowl ad, entitled #KimsDataStash. It's the second Super Bowl ad appearance for Kim after her debut in 2011 for Skechers. The T-Mobile advert plugs a new service from the T-Mobile cell phone company that allows customers to keep unused data, for up to 12 months. The commercial has been watched 8.7 million times on YouTube and Twitter, but has been received with mixed feelings as the thumbs down voters (18,000) outnumber the thumbs up voters (14,000).
5. Carl's Jr.: "Charlotte McKinney All-Natural – Too Hot For TV"
Last but not least: Carl's Jr.'s Too Hot For TV advert. Supermodel Charlotte McKinney, who is being heralded as the new Kate Upton, stars in the latest juicy spot for burger chain Carl's Jr. The sizzling ad is supposed to air on American TV during the biggest sporting event of the year on February 1st. But the commercial has caused such a stir that TV stations in some states are refusing to run it. On the web the promotional video has attracted 6.1 million views in just 9 days. Total shares: 43,136.
What About You?
Which video did you like most? We would love to hear your opinion. Share it with us in the comments.
Take ViralBlog.com everywhere you go
Have an iPhone, iPhone Touch or iPad? Download the ViralBlog.com app for iOS
Samsung or other Android mobile phone/tablet? Download the ViralBlog.com app for Android
Explore more on ViralBlog
Want to see more popular viral videos? Browse our category "Viral Friday" or get our weekly e-mail newsletter for updates and free bonus content.
Follow ViralBlog on Twitter, LinkedIn, Facebook, Google+, Feedly.
Join us on Twitter, LinkedIn, Facebook, Google+, RSS