Viral Friday: Jennifer Aniston and Smartwater
Viral Friday is the weekly viral video chart of ViralBlog, showing the 5 most popular viral videos, commercials, games or user-generated videos, carefully selected and ranked by popularity, viral impact & spread.

This week's Viral Friday #1 position goes to Jennifer Aniston in her first viral, together with a popular YouTube guy Keenan Cahill. Next, the #2 goes for footbal players from BVB . And the third position is for a bip bip Citroen, which completes this week's Top 3.
Do you want to see this week's list from 1 to 5? Go on then, and have a look! We'd like to hear your opinion about the virals. Have fun!
Get our ViralBlog asset: the Viral Friday Widget! By default the widget shows you the latest Viral Friday, but it'll also show you the seven most recent postings on ViralBlog.
Sponsored item
Viral Friday is sponsored by ViralTracker – the independent third-party viral measurement company, since 2004. ViralTracker improves your viral marketing ROI and digital content with 300%. Watch the video demo, become an authorized reseller or request the rate card.
1. Jennifer Aniston and Smartwater
This video is about water. We are surrounded by it and yet we tend to buy it. To stimulate this process  Smartwater created a new commercial with Jennifer Aniston! Link her body to water and it sells. Very smart indeed. Additionally the creators poured in every flavor of viral potentials which resulted in this video. Even Keenan Cahill grabbed his 23 sec. of fame.  Video successful? Yes! The video is up since March 7 and hit 6 million views! ViralTracker will soon zoom in on the video results with comparison to its clones. Stay tuned!
2. Nuri Sahin and Roman Weidenfeller
Almost all kind of sports are important part of our lives, they keep us healthy, strong, fit – basically in shape. Well, there are some that you can have doubts about, but let's keep it this way. One of the most popular around the planet is for sure football (American English translation: soccer 😉 and here's a nice piece done by two players from a German club – Borussia Dortmund. Can your favorite goalkeeper follow up?
3. Citroen makes "Bip Bip"
If you can't afford a fancy car which makes fancy technology sounds, why not make the sounds on your own then and pretend to have all the sounds features? That's exactly what the guy in this video is doing! Life can be so simple sometimes. This video was made for Citroën to promote the new C3 which has a lot of fancy new features with fancy technology sounds. The video is made by the French agency "H" and is uploaded on March 8th. It already has more than 20.000 views!
4. Angry Birds and Bing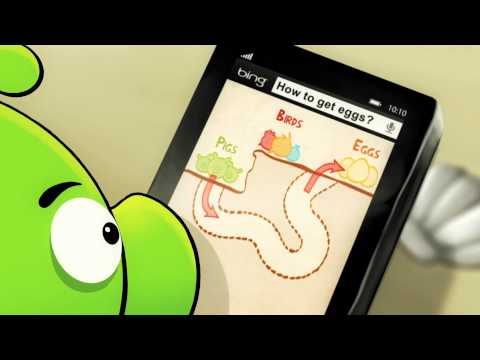 How to get eggs? That's the question that keeps the pigs of Angry Birds busy every single day. Well, they don't need to worry anymore. Search engine Bing helps them along the way. Watch the follow up video to see how it ends. This video has already more than 113.000 since 7th of March.
5. Rafael Nadal for Emporio Armani
After some video's about cars, basketball and other "guy stuff", we now have a little something for the ladies as well. Rafael Nadal has taken his clothes off exclusively for the new Armani jeans and underwear campagne. Something a little different from the tennis clothes we usually see him in. This video is uploaded on YouTube on March 8th  but it already has more than 90.000 views! A lot of women have fallen in love with Rafael Nadal all over again after seeing this video, so ladies; enjoy!