Viral Friday: Michael – Long Live Play
Viral Friday is the weekly viral video chart of ViralBlog, showing the 5 most popular viral videos, commercials, games or user-generated videos, carefully selected and ranked by popularity, viral impact & spread.
This week's Viral Friday #1 position goes to Michael – Long Live Play, revealing and answering questions from last week's teaser. The #2 goes to Apple – Introducing Siri on iPhone 4S check the new features of iPhone. And the #3 goes to Rick Lassi Hurskainen Angry Birds, see the goalkeeper in a rough action.
Do you want to see this week's list from 1 to 5? Go on then, and have a look! We'd like to hear your opinion about the virals. Have fun!
Get our ViralBlog asset: the Viral Friday Widget! By default the widget shows you the latest Viral Friday, but it'll also show you the seven most recent postings on ViralBlog.
Sponsored item
Viral Friday is sponsored by ViralTracker – the independent third-party viral measurement company, since 2004. ViralTracker improves your viral marketing ROI and digital content with 300%. Watch the video demo, become an authorized reseller or request the rate card.
1. Michael – Long Live Play
As written last week in Viral Friday, PlayStation 3 – Long Live Play,  the teaser has a revelation. It has nothing to do with the PlayStation Network or PlayStation Store but definitively with games. Surprising? Not at all. See the real hero behind the door, hear the words of praise and glory for the one and only – Michael. On the contrary, what do you think these characters would say about a PC gamer? The video is out in the wild since 5th of October with almost 4 million views!
2. Apple – Introducing Siri on iPhone 4S
This Viral shows the latest add-on for the iPhone 4s: Siri. This feature allows you to talk to your iPhone and give orders to it. The best part? Your iPhone will respond with feedback or actions. This feature is one of the many improvements of the latest iPhone. Alltogether it is one where Steve Jobs could be very proud of. We all hope that Apple can and will continue the brilliant visions of this man and stay true to how Apple was mend to be. This video is up since October 4th and had 1.1 million views! Thanks Steve!
3. Rick Lassi Hurskainen Angry Birds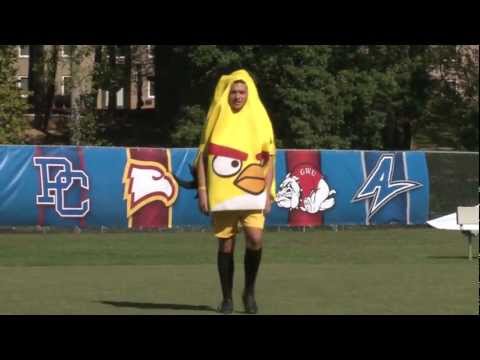 You know the red birds that are aiming for world domination? Yes, I mean Rovio's Angry Birds franchise. The iconic red birds are literally everywhere, from merchandise to Chinese moon pies to fan made movies. Now Rovio is even claiming Angry birds will be bigger than Mario. Thought that was it? Not even close, UNC Asheville goalkeeper Lassi Hurskainen didn't think so either. He does some crazy trick shots Angry Birds style. Uploaded last Monday, the video already has 1.013.596 views. Need more? Check this video from Lassi Hurskainen. Enjoy!
4. Adidas D Rose: adiZero Rose 2 – The Bull
Bullfighting, a spectacle of Spain, Portugal and southern France, even though not so popular for its cruelty. And what would you say about a combination of bullfighting and basketball? Sounds a bit weird? Yes it does and it is. However Adidas counts on innovation and is all in, also with this video with more than 450.000 views. Wondering how this could be even more interesting as it misses some "spice". Oh yes – let a real bull in!
5. Honey Badger – Wonderful Pistachios
Wonderful Pistachios has gone nuts with a new campaign "Get Crackin". They released a few video's, showing funny way's to crack a pistachio. The most popular one is a video with a honey badger who's going to crack a pistachio nut with a cobra. This is a good example of a viral video with funny animals and they've done a good job incorporating the "Get Cracking" theme on their website and Facebook page as well.