10 Creative Airline Safety Instruction Videos
Air travelers have all been there, when the plane is about to take off, we first have to pay attention to the mundane, old, tiring and boring onboard safety announcements.
A research conducted by the National Transport Safety Board (NTSB) in 2006 found that 54% of passengers did not watch the in-flight safety video in its entirety. Since then a number of savvy airlines have taken action to turn the boring safety video into a surprising entertaining video that manages to capture the passenger's attention.
From stripping down to rapping, we gathered the ten most creative and entertaining safety videos to watch for you in random order.
Virgin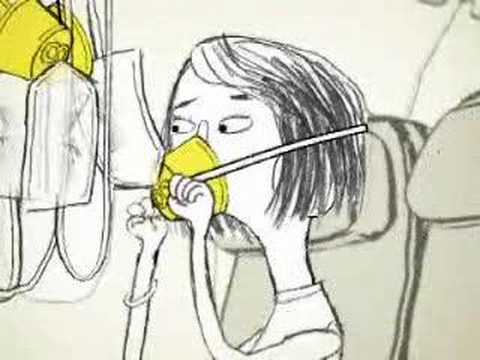 Leave it to Virgin America to turn the entire genre of in-flight safety videos on its head. Virgin America's cartoonlike in-flight safety video debuted in winter of 2007 and has gained over half a million video views on YouTube since it was released.  The quirky video informs passengers of FAA regulations in a creative and entertaining way that supports Virgin America's "creating an airline people love" brand.
The safety video has been routinely receiving applause and cheering from airline passengers and has been widely circulated on the Internet. The in-flight safety video was produced by W!LDBRAIN Animation Studios in conjunction with Anomaly NYC, the advertising agency that helped lead the Virgin America launch.
Hackettfilms created an engaging character driven 3D animation for Virgin Australia and incorporated the humor in the form of visual gags into the clip that is tied to the Virgin brand, whilst always maintaining the core message of safety and clarity. In 2010 the safety video won the New York Festivals award for best Public Relations and a USA Videographers Award for Interact.
Richard Branson's Airplane Safety Video created by CollegeHumor. A funny comic sketch written by Streeter and Pat.
Delta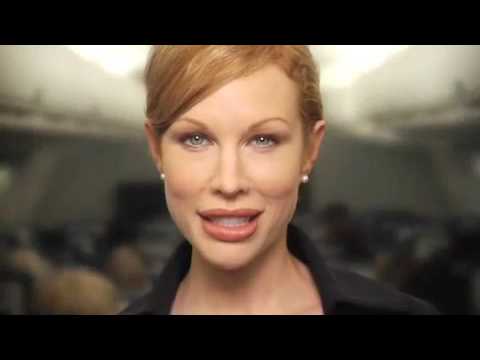 33-year-old bachelor Katherine Lee became a YouTube celebrity thanks to a safety instruction video for Delta Air Lines. The redheaded air hostess is a Delta-employee since 1997 and was culled from an initial pool of 1,000 candidates for the safety video.
The clip aired in 2008 on 400 Delta flights. Viewers dubbed her "Deltalina". "I love Angelina Jolie, to be compared to her is beautiful", said Lee, who has been on TV several times and even proposed to once due to the video.
New Zealand Airlines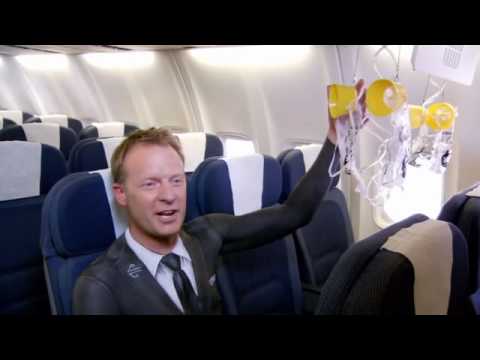 Air New Zealand's "Bare Essential" in-flight safety video has had more than six million views on YouTube since it was launched on June 22, 2009. The video features staff wearing nothing more than body-paint delivering the in-flight safety briefing to customers travelling on a 737 domestic jet. Also watch some of the bloopers that didn't make the cut for the final Bare Essentials of Safety video version.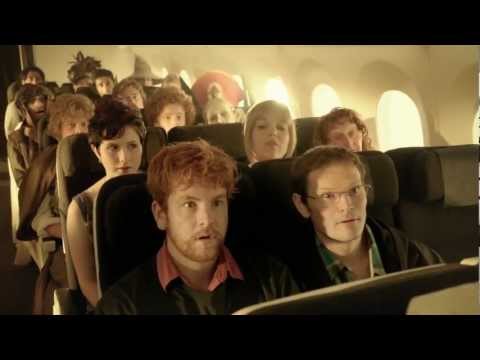 Passengers on Air New Zealand won't be sitting through a very dull safety video, instead they'll see a clip that features Gollum crawling through the aisles and Peter Jackson finding the One Ring on the cabin floor. The video, a tie-in with Peter Jackson's upcoming movie "The Hobbit: An Unexpected Journey", features special effects from the director's Weta Workshop, including a digital Gollum pointing out airplane safety lights.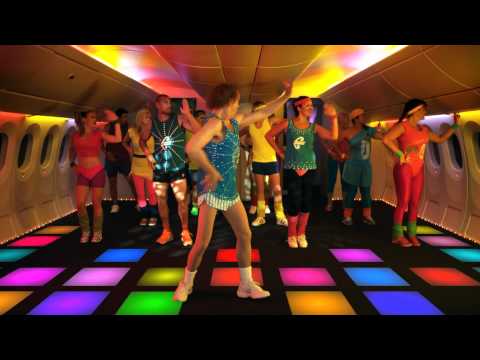 Another entertaining air safety video by Air New Zealand featuring US celeb fitness instructor Richard Simmons showing you his safety fitness tips. "First let's stretch it out and lose that baggage … Stretch and slide. Yeah, you're a giraffe!"
South West Airlines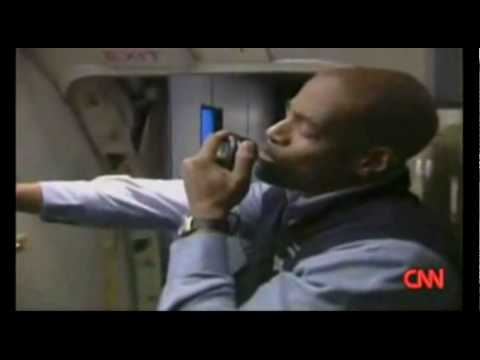 Southwest Airlines flight attendant David Holmes in the US decided to rap the safety instructions over the plane's speakers. The rap finishes to a roar of applause from passengers. The comments from the people on-board: "That's the first time I have listened to the emergency instructions". Before turning the pre-flight safety check into a rap, David Holmes had to write down the lyrics and make sure they were in compliance with all of the F.A.A. regulations.
On the official YouTube channel of Southwest Airlines, NutsAboutSouthwest, more entertaining in-flight videos can be found, such as Leprechauns On A Plane and A Flight Attendant Country Song.
Cebu Pacific Airlines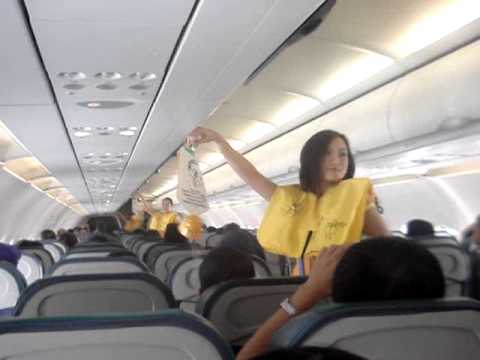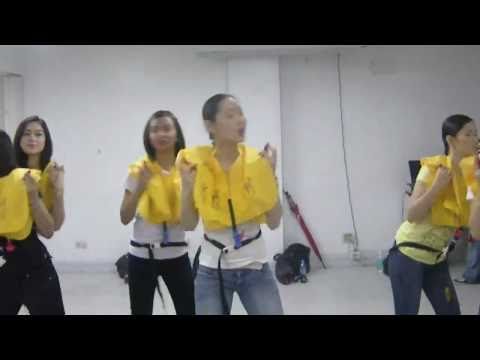 Flight attendants on the Philippines-based airline do a session of what is planned as a regular feature on all Cebu Pacific flights: the attendants dancing the Lady Gaga super-hit 'Just Dance' to get passengers interested in the safety demonstration. Innovative or provocative?
Thomson Airways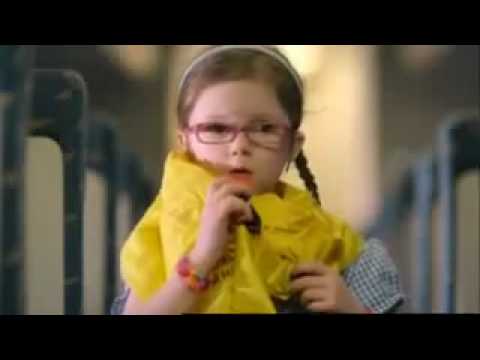 The cutest in-flight safety video ever? All the kids in the safety video are normal school kids. Over 900 children were screen tested for the 12 roles as "Thomson Airways little stars". The video was filmed at Doncaster airport on a training cabin. It features 12 children and took three days to film. The approach resulted in a 15% increase in the number of customers who paid full attention to the video.
Turkish Airlines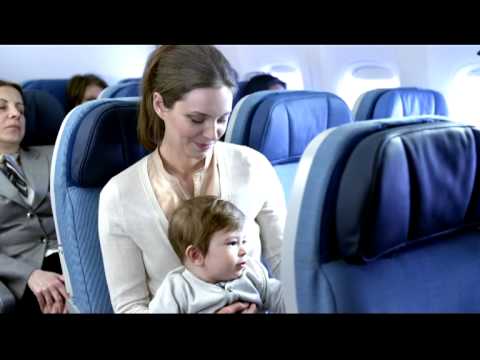 Turkish Airlines in 2011 turned to the stars of Manchester United in a bid to make safety and inflight comfort information more engaging for their passengers. The video features Wayne Rooney, Darren Fletcher, Chris Smalling, Nani, Rafael and Fabio da Silva recreating scenes a little different from the standard safety video.
---
About the author
Paul van Veenendaal (34) is an all-round marketing professional from the Netherlands with 12+ years of online experience and co-founder of ViralBlog. Currently Paul is working at Starcom Amsterdam as Social Media & Communnity Consultant for Honda, Samsung, GSK, Redbull, Heineken and Nintendo.
You can connect with Paul via Twitter, LinkedIn, Facebook, Weibo, Pinterest, Del.icio.us or send him an email at [email protected].