From Russia With GoPro: Ken Block
The winter might be over (finally!), but GoPro and Ken Block teamed up once again to present some awesome stunts.
Filmed in a Russian ski resort, Ken Block drives his Ford Fiesta rally car through the slopes, not really paying attention to the GoPro cameras.
Why should he, right?
Ken Block, a co-founder of DC Shoes and well known stunt driver is a star of many videos that went viral, with millions of views – for example the famous Gymkhana videos.
This time Ken Block cooperated with GoPro and they bring you this amazing video featuring the typical Ken Block's style. Rushing adrenaline, great drifts, some slow motion and some cool close-ups. Block's Ford Fiesta has also some GoPro HD cameras to capture the entire run for you to enjoy his ultimate racing skills.
GoPro: Ken Block in Russia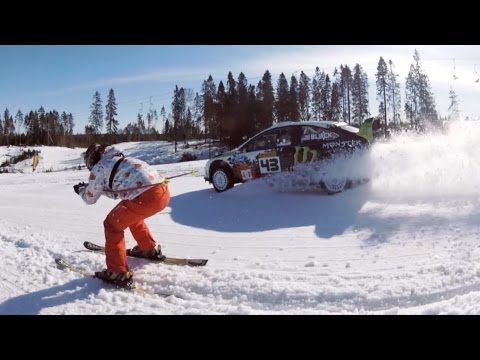 You might have noticed, especially at 2:40 that some of the GoPro HD cameras didn't make it till the end of the stunt video shoot. Why? Simply because Block tries to "take out as many cameras as he can," as stated under the video description on GoPro's YouTube channel. Interesting approach or just a coincidence?
Anyway, since the dash cams videos from Russia are getting uploaded to YouTube, I think it the site is even more interesting. And also wondering where the next Ken Block's video will take place…

What about you?
Do you like Ken Block's and GoPro's videos and do you think they help create brand awareness? Where would you like to see Ken Block's next stunt take place?
Follow & Share
View more amzing viral videos from our Viral & Social Video category. Follow ViralBlog on Twitter, grab our RSS Feed, join our Facebook movement or subscribe to our weekly e-mail newsletter.