2009 Agencies & Clients Christmas Wishes
It's the time again where agencies and their clients are developing entertaining and innovative Christmas wishes again. It seems that agencies and brands are releasing their wishes earlier each year. We already posted about the new Elfyourself, but you should defenitely see the other Christmas wishes in this posting as well.
Samsung's Shake Your Xmas
Bannerblog publishes the best Christmas wishes from agencies and clients every year, you can check the full list they have found so far, you can help them by submitting your Christmas campaign by email.
Last year they collected over 120 Christmas ecards and the page was a huge success (well 56 comments and 20,000+ views isn't bad), which resulted in one of the best Christmas wishes database we've ever seen.
Here are some random wishes:
Lenovo's Rascal The World's Ugliest Dog Sings A Christmas Song
Lenovo presents Rascal the World's Ugliest Dog singing a holiday favourite in Canine Carolers. You can personalize your own greeting and share as a free holiday E-Card here. Thanks to Caroline from the WOO Agency in Los Angeles
Poke London's Naughty Or Nice Chair
Take a seat on Santa's lap and he'll tell you if you've been naughty or nice, then give you your reward or punishment. Everyone that sits on his lap get photographed, this is then uploaded to a blog telling everyone if their reward or punishment.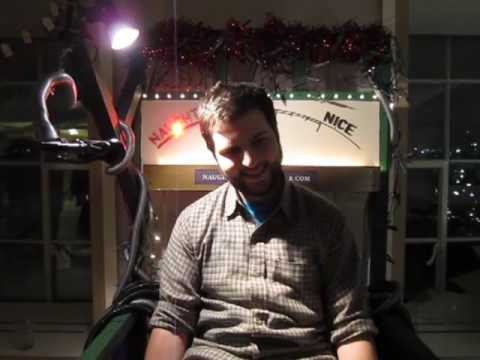 LG's Dear Hero Campaign
LG decided to give you the opportunity to thank your personal hero for being there for you. So far, more than 33,000 heroes have been selected and ranked on dearhero.com. You can watch the Dear hero viral video here.

Armani's Christmas Wishlist Tree

Pick you fashion present from the Armani Christmas tree, save it on your wishlist or send it to "Your Santa". I like the idea but the execution could be better. They've missed for example  the opportunity to integrate the tool within some social sites.
Gaps's Cheer Factory
Crispin Porter & Bogusky have just launched GAP's Christmas campaign site called The Cheer Factory. It's a full video site that lets you watch, personalise and send cheers to your friends and family from GAP this Christmas.
Check out the full list of wishes on Bannerblog. We're looking forward to your input regarding other creative Christmas wishes!
Source: Bannerblog