How To Play Video Games Against Your Favorite Athletes
Ever wondered how it would be if you could play your favorite video games against your favorite athletes?
Then you should definitely try the Overdog app for iPhone or Android!
OverDog is the first and only app that enables Fans to game against their favorite Athletes on Xbox and PlayStation.
Video games are ranging from Call of Duty and Madden to Halo and FIFA.
Overdag launched a beta last May, with 75 professional athletes signed up on the service.
How does OverDog work?
Athletes challenge Fans to game with them on Xbox or PlayStation via the OverDog app.
Fans are notified through push notifications that an Athlete is looking to play a game
Fans then enter a drawing for a chance to play the Athlete. Following a short countdown, OverDog selects a winner at random and the Athlete and Fan are directed on how to start their game.
Some of the athletes already use Twitter to engage with fans by challenging their fans in video games through their social media such as Twitter, and Facebook.
With Overdog, this proces is made much simpler.
And the result is really cool. Check out this video about an OverDog fan who gets to game with five star running backs in Call of Duty: Ghosts:
Overdog is now mainly focused on the US market. But definitely has potential in the European football market as well.
PSG striker Zlatan Ibrahimovic is not only a great football player, but also a passionate gamer.
He even met some fans in online gaming forums using XBOX live and is now friends with them in real life.
Check this interview where Zlatan tells about his passion for gaming: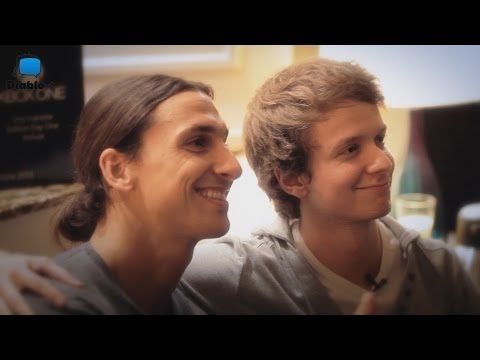 Back in February, OverDog tried to raise $100,000 on Kickstarter, but failed to reach its desired goal as 310 backers combined to pledge just $37,472.
Overdog did not perceive that lack of financing as an failure. Besides that the company was already venture funded.
How will Overdog monetize the app?
"The app is ad supported, while also generating revenue by leveraging the tremendous reach these athletes have in social media to promote various products," says Hillenmeyer.
"When our athletes Tweet out that they are about to go play on OverDog, they have a social footprint of a collective 40-million followers or so, and we're integrating these brands and publishers alongside these athletes."
The app was free in the beta period, but Overdog announced that the app would be a non-free app after the second release.
Surprisingly the newest version of the app (V2) is still free and will stay for free.
My Opinion?
I really love this kind of fan engagement.
It plugs in on a process that is already actively taken place. Overdog makes this proces simpler in a really awesome way.
In my opinion Overdog fills a open hole in the social relationship between athletes and their fans in a way that has never been done before.
But I'm a bit suprised about the fact that Overdog tried to raised a funding on Kickstarter.
If you play 8 straight seasons in the NFL, a $100K would be pocket change to you?
What About You?
What's your opinion on the app? Do you have any experience with it?
The Overdog app is currently only available in the US on iPhone and Android.
We expect it to be available worldwide soon, as Overdog recently approached some famous athletes from the UK.
Follow & Share
Want more stories on breaking with the status quo? Browse our category Viral & Social Video, join us on Twitter, LinkedIn, Facebook, Pinterest, RSS and get our weekly E-mail Newsletter for updates and free bonus content.
About the Author
Laurens Bianchi is an independent online (sport) marketing professional from the Netherlands and has been blogging on ViralBlog since 2008. Currently Laurens is also the Social Media Consultant for the Royal Dutch Football Association. Follow him on Twitter or contact him on LinkedIn.
Source: Overdog website