Joburg Zoo Presents The World's First Live Tweeting Badger
BG is a resident of the Joburg Zoo in South Africa, and the world's first live tweeting honey badger. Meet the animal that is a true social media manager.
Being in control enough to let go? Yes ladies and gentlemen, the Johannesburg Zoo truly is.
They turned over their Twitter feed to a honey badger with an attitude.
Enjoy the insights in this remarkable story with entertaining video.
Joburg Zoo: World's First Social Media Spokesanimal
With the help of some innovative technology, the Joburg Zoo has been able to transform one of their very own animals into the zoo's official Social Media spokesanimal: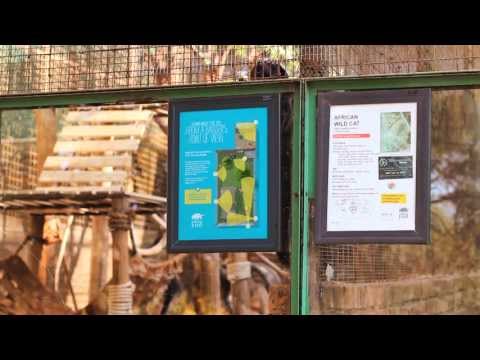 By creating a high-tech animal enclosure that enables the zoo's mascot BG to tweet about what he is doing and thinking throughout the day.
Specially designed sensors inside BG's cage, pick up on his location and automatically trigger real-time tweets.
The Zoo From the Badger's Point of View?
An entertaining way of education is to learn about the Joburg Zoo from a badger's point of view. Yes, scripted tweets, but cool ones!
The topics of BG's tweets run from commentary on his neighbors to intersting animals facts:
– The African Wild Cat next door thinks he's so cool cause he has ears.
– Bees have five eyes. All the better to see me steal their honey with…
Follow BG on Twitter here @zootweetslive or #tweetingbadger.
My Opinion
I have been presenting some odd Twitter stuff here on ViralBlog. From Huggies TweetPee to an unborn baby from NYC kicking its first tweet.
Technology is enabling so many of us to do more good. And uh, some of us to share their "very weird" ideas with the world around them.
I guess that the Joburg Zoo will be earning global attention with their hilarious tweeting badger.
Very original, clever and witty. Respect!
What About You?
How do you rate BG's live tweets? Saher your ideas in the comments.
Follow & Share
Want more stories on breaking with the status quo? See our category Trends & Innovations, join us on Twitter, LinkedIn, Facebook, Pinterest, RSS and get our weekly E-mail Newsletter for updates and free bonus content.
About the Author
Igor Beuker was CMO at 3 listed companies, chairman at the IAB, jury member at Webby, AMMA and Esprix awards, founder of 3 digital agencies (sold to WPP) and global chief social officer at Mindshare. Now he is freejack consultant and still a sought after keynote speaker