7 Campaigns Using The "Facebook Like" As A Metric
Last month Dutch singer Trijntje Oosterhuis underestimated the power of the Facebook like, by promising to donate 1 euro to charity for every like on a Facebook post.
The Facebook posting by Trijntje received more likes than she expected. Over 250,000 likes to be exact, thus promising to donate more than €250.000 and counting.
A bit too much to bear, so she deleted the viral post from her Facebook page. It quickly became talk of the town in various Dutch talk shows, on blogs and on Twitter, so after a few days she promised to make a generous gesture.  Various brands also have discovered the viral nature of this simple "1 like equals" mechanism.
An overview of 8 international and local brands that have successfully used the Facebook "like" in a metric way:
1 like = $1 dollar (AXA)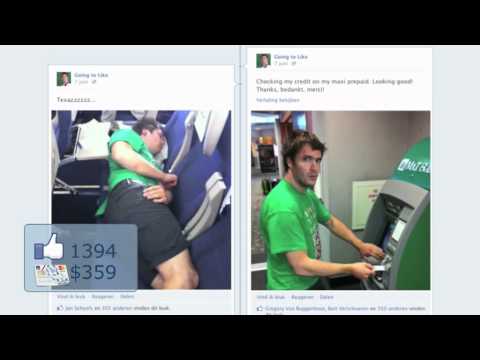 In 2012 AXA Bank Belgium introduced a new kind of bank card for young people, a rechargeable MasterCard, entitled Maxi Prepaid Card. To promote the Maxi Prepaid Card the Belgian bank, with the help of award-winning agency Duval Guillaume Modem and The Parking Lot, came up with the idea to sent a young man Cédric on a "cashless" journey to Like Place, Hawaii.
His mission was to get there as fast as possible and to complete 7 challenges along the way. Cédric had to earn his travel budget by using his Facebook timeline. The card started with a zero balance. For each like he received on the Going to Like Facebook page, Cédric received $1 on his Maxi Prepaid Card. He could then spent the money on the card to travel on. In only 2 weeks time he got all the way to Like Place Hawaii with the help of 27,743 likes. People reached according to the agency: 10,254,125. The current total likes for the Going to Like: 5,681.
1 like = 100 meter (Nike)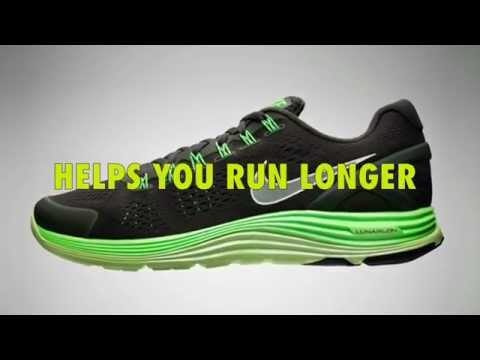 In July 2012 Nike in conjunction with Wieden+Kennedy Tokyo created the Facebook app "Run LIKE Me" to launch the new running shoe Lunarglide+ 4. The Nike team created a unique interactive activation that merged Facebook, Nike+ and real world runner Joseph Tame. For every like, Joseph would run 100 additional meters.  So the more people that engaged with the "Run LIKE Me" app, the more Joseph ran, the more interesting his ran became and the more people talked about it.
Over the course of July cheerful Joseph (known for his flamboyant costumes and unique running style) ran 383.9 km powered by 28331 user likes. Nike+ GPS was used to track each run along the way. The routes ran created live GPS art using the streets of Tokyo. The current total likes for the Nike Running Japan Facebook page: 68,859.
1 like =  three inches of facial hair (Bronx Men's Shoes)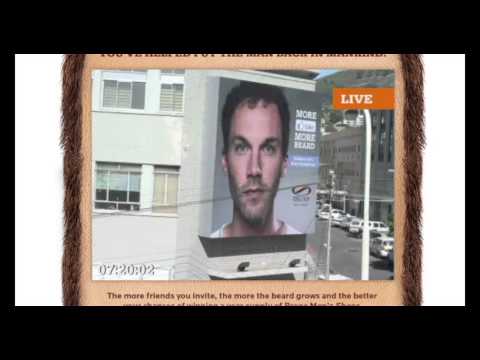 In 2012 creative marketing agency, Bletchley Park, created an interactive, beard-growing billboard for their client Bronx Men's Shoes in Cape Town, South Africa. For the "Man Enough" campaign the agency installed a six meter high billboard with a portrait of a man's face covered in stubble (600 strands of "hair"). One like on the Bronx Men's Shoes brand page on Facebook triggered the beard automatically to grow by about three inches or as the shoe company puts it: "More likes = More Beard". A live webcam was installed opposite the billboard, to allow Bronx Men's Shoes Facebook fans watch the beard grow  from April 1st – May 1st.
The competitive aspect of the campaign: users could invite their friends to like the page. Each one that did pushed the other user up the leaderboard. Users also could win a year's supply of Bronx Men's Shoes. Current Facebook likes for Bronx Men's Shoes: 10,965.
1 like = 1 flame (MINI)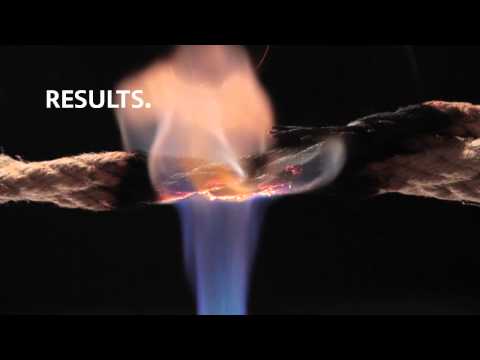 In January 2012 Mini BeLux (Belgium and Luxembourg) launched a live streaming social installation at the Brussels Motor Show, entitled 'Fan The Flame', starring a brand new MINI Countryman. The car was placed on a 15% slope, held only by a thick rope, while a Bunsen burner was placed under the rope. A webcam streamed the scene 24/7.
Each new Mini BeLux Facebook fan earned a flame. By remotely igniting the burner, a fan could take his or her shot in burning the rope. The fan whose flame ultimately burned the rope was elected winner. After 10 days and 30,000 flames the rope snapped and one lucky MINI fan won the car. Mini BeLux welcomed 21,314 new fans. 250 blogs picked up the campaign and the average time on the Facebook site was a whopping 8 minutes 54 seconds. The current likes total: 31,580.
1 like = 1 piece less clothing (Stüssy)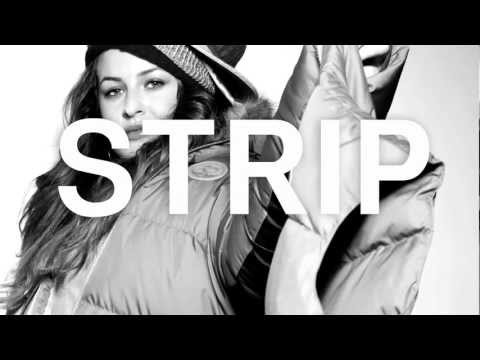 Last year clothing brand Stüssy Amsterdam launched (together with Arnold Amsterdam) a remarkable digital campaign to increase its Facebook fan base and promote the Spring/Summer 2012 range.  Stüssy hired a model to strip for likes, while wearing the collection. The more likes, the more clothes came off.
The campaign started on April 7th 2012 with less than 1,000 likes. A week later on Friday the 13th the campaign finished with over 14,000 likes with exposure from Mashable and The Huffington Post. What is smart about the campaigns is that once you've liked the stripper, you'll be inclined to come back and see what her status is and see more Stüssy clothes; thus she becomes a catwalk stripper. Nice, simple, and effective. The current number of likes is 22,923.
15 likes = 1 chocolate gift (Nestlé)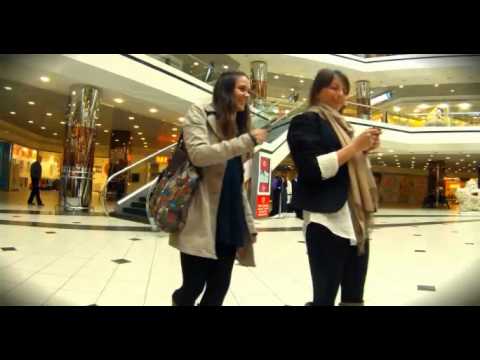 In 2011 Nestlé Turkey surprised random shoppers in Istanbul with a chocolate treat for the campaign Chocolike. Wanda Digital and Nestlé placed a vending machine in the largest shopping mall in Turkey's largest city and connected the machine to its Facebook page.
Every 15 likes on Facebook resulted in a free chocolate gift (tablet consisting of 15 pieces chocolates) to a lucky person who just happened to be near the vending machine. A hidden camera recorded the reaction of the 'winners'. 55,433 liked the Facebook page during the campaign, which resulted in 3,695 ChocoLike gifts.
1 like = 1 condom (Stop Aids Now)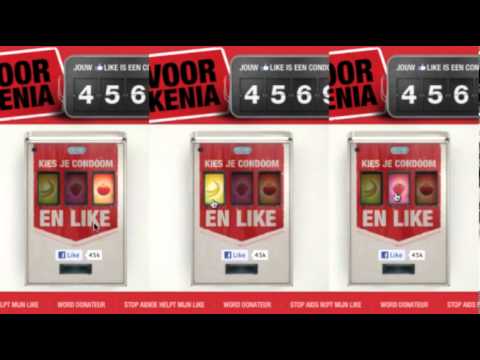 Stop Aids Now is a Facebook campaign that promotes the prevention of aids in Kenya by sending one condom to the people of Kenya for each 'like', of the Facebook page. The initial goal of the campaign in 2011 was to reach 10,000 likes, however, this goal was already exceeded within one day. Stop Aids Now changed the goal to 40,000 likes. By the end of the campaign 46,000 likes we're achieved. Current number of Facebook fans: 56,873.
Bonus: 1 like = 1 FB profile on the notice board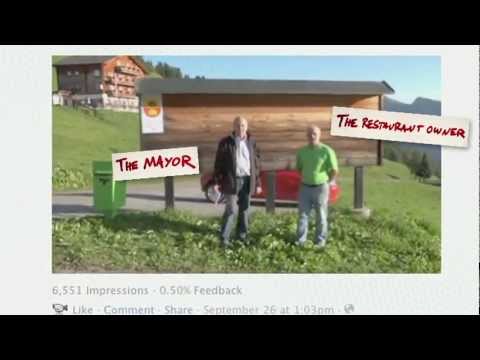 In 2011 Jung von Matt/Limmat launched a campaign dedicated to the little and lovely mountain village Obermutten,  in the Canton of Graubünden, Switzerland. When the local mayor created a new Facebook page for the village, he also made a remarkable promise in the first video that was posted on the page: Just click on "like" and your profile picture will be posted on the Commune's official notice board.
In no time at all, the board was completely covered with fans. In order to deal with the flood of inquiries from fans, it was necessary to resort to hang up the profile pictures on barn walls in the village. The Facebook community liking Obermutten increased to over 17,000 fans. The current number of Facebook fans: 45,191.
My Opinion
Using the Facebook like as a metric is a great way for storytelling, engagement and Facebook fan growth for the short term. The fan retention in the long run is good, no steep declines in likes. Though some Facebook pages have difficulty keeping up their PTA (People Talking About) level eventually. Raising the question, how engaged these fans actually are after the fun activation.
Contrary to getting new fans, some brands rather ditch non-loyal fans. Burger King Norway for example recently dropped deliberately from 38,000 followers to a more engaged fan base of just 8,000, after seducing some fans with a free McDonald's hamburger in a loyalty testing cleanup campaign. Combining these two kind of campaigns can be a powerful recipe to keep engagement high and interact with true loyal fans.
In the past, Facebook guidelines stated "You must not use Facebook features or functionality, such as the Like button, as a voting mechanism for a promotion". Nowadays the Facebook guidelines (August 27, 2013) don't mention anything about the like button as voting mechanism anymore.
What About You?
Have you seen more clever uses of the like button as a metric? Do you think these campaigns were just a trend around 2011/2012, or will we see more of these campaigns in the future? Let us know in the comments below.
Follow & Share
Want more stories like this? Browse our category Facebook Marketing, join us on Twitter, LinkedIn, Facebook, Pinterest, RSS and get our weekly E-mail Newsletter for updates and free bonus content.
About the author
Paul van Veenendaal (36) is an all-round marketing professional from the Netherlands with 13+ years of online experience and co-founder of ViralBlog. Currently Paul is working at Starcom Amsterdam as Social Media & Community Consultant for Samsung, Redbull, Honda, Heineken, Nintendo.
You can connect with Paul via LinkedIn, Twitter, Google+, Weibo, Facebook, Pinterest or send him an email at [email protected].