How Somersby Cider Gets Men Dancing At Parties Again?
Somersby Cider has launched Project OpenMinded after discovering that 52% of men are not dancing at parties. Get the insights and cool video here.
What happens when you ask a window cleaner to work in the middle of a bar?
Welcome to Project OpenMinded. Let's turn party Oh no's into party Oh yeah's.
White Men Can't Jump – Why Men Don't Dance
Remember the 1992 movie White Men Can't Jump starring Wesley Snipes and Woody Harrelson?
The famous and fun movie about black and white basketball hustlers joining forces to double their chances.
Well, jumping does not seem to be the only weakness of men. How about our dancing skills?
Actionable Insight Driving Somersby Cider Campaign
Being a strategist I always look for actionable insights and strategy driving a campaign or program. I like the use of this actionable insight. Why?
The campaign for the Carlsberg owned cider comes following an Epinion survey for Somersby among 999 people, which found that 52% of men don't dance at parties because they don't believe they can.
Somersby Cider claimed and coined this insight by launching part 1 of 4 webisodes as part of Project OpenMinded. A mission to help people step out of their comfort zones.
The first webisode in the campaign shows Jurgen, a professional windows cleaner who uses his work skills to help him dance. See Jurgen in action in this cool video: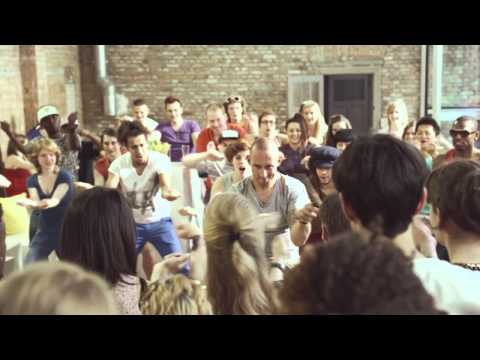 Clever and fun, right?

My Opinion?
As explained I like the use of the insight and how Carlsberg turned it into an actionable insight for Somersby Cider.
I look forward to see the next 3 webisodes.
What About You?
How do you rate Jurgen's skills, his video and the use of insights? Our readers would love to hear your thoughts in the comments below.
Follow & Share
Want more stories on breaking with the status quo? Browse our category Trends & Innovations, join us on Twitter, LinkedIn, Facebook, Pinterest, RSS and get our weekly E-mail Newsletter for updates and free bonus content.
About the Author
Igor Beuker was CMO at 3 listed companies, chairman at the IAB, jury member at Webby, AMMA and Esprix awards, founder of 3 digital agencies (sold to WPP) and global chief social officer at Mindshare. Now he is freejack consultant and still a sought after keynote speaker.