How I Marketed A #1 Selling App
For a numbers of years there has been a lot of buzz around how much money people have been making off iOS and Android Apps in the marketplace. But rarely do people mention how they are marketing their Apps. Like any other product or brand, the marketing behind an App is absolutely crucial in its success.
Listed below are a number of the steps I used to market my app Brief Buddy,  within 2 days of it's launch it hit the number 1 spot on top of the iTunes reference charts in Australia and New Zealand and number 2 in Singapore.
It stayed  in the top 10 for over  a week, ahead of major developers such as Dictionary.com  and Xbox. I had no outside investment and a very, very lean marketing budget for my app.
It  was also my first  and only app  in the market. Like most people I could not risk loads of money marketing an app that may not sell. The app did sell.
It continues to sell  copies everyday. Below is what I did; hopefully you can apply some of the  same tactics and strategies to marketing your app.
Phase 1: Pre-­launch  Marketing
Get An App Domain Name, E-mail Account And Twitter Handle Registered
Whilst I was still creating the app I registered a .com domain name and set up an official email address. I also registered a Twitter handle, all of which were the same name as the app. It's important to have these registered well in advance, just so you have them, and so no one else can take them. It also presents a united, professional front for your app, especially with things like email addresses.
Create A Coming Soon Web Site With An E-mail Capture
This was a fundamental part of marketing the app, I set up a very basic 1 page HTML web page with the name of the app, a hero image, a brief line of copy on what the app does and a few short descriptions of key features.
One of the most important parts of this page was an email capture form where people can register their interest by simply submitting their email address. This may seem like a bit of an old school marketing method, but it worked. Sure enough I started receiving a steady stream of people shooting me their email addresses.
Success, I already had myself a few people interested and I had a little database of emails addresses ready to send out to when the app was available.
Lastly you should also get your social media buttons happening on this page, Google+, Facebook and maybe LinkedIn if it's a business style app.
Follow Your Target Audience On Twitter
Twitter was one of the most powerful tools I used in marketing my app, you can't underestimate it. In the pre-launch days I tweeted a few starter tweets telling people the app was coming soon and what it was all about, I tweeted the app name, URL and some of the features.
Some people may consider this a little underhanded, but one of the main ways I kick started my Twitter campaign was to follow my target audience. I would seek out my target audience, and only my target audience on Twitter and follow them.
This built up awareness of my app by simply letting them know that Brief Buddy was following them, in turn they would check out my Twitter profile, visit my web site and 75% of the time they would also follow me.
Another success, I was steadily building up followers on Twitter, I was also seeing an increase in traffic to my app website, which also meant more email subscriptions. Win. Win.
Comment About Your App On Relevant Blogs
This again is some pretty grass roots stuff, and it's nothing glamorous but I would also participate by writing comments, rate things and give my positive opinions on web sites that I knew my target audience would be reading.
I would comment on a topic, and sometime where it permitted I would mention my app and post the website address. Out of this I did get some more traffic to the apps website which was great.
E-mail Blogs And Let Them Know Your App Is Coming Soon
The media was also one of the most powerful ways of getting my app noticed. Before the launch of the app I wrote to about 20 small to medium blogs and let them know about the app, with very clear, concise emails with a teaser picture of the app attached and some copy about the app, as well as a link to the website.
I didn't get too crazy with the number of bloggers I emailed at this pre-launch stage, but it was worth getting a few on board to create awareness and drive traffic to the website which led to a few more email subscriptions. I got one blogger to post a story out of the 20, which again led to more traffic to the site and more email subscriptions.
Create A Facebook Page For Your App
Facebook is another crucial part to your marketing campaign, it also registers very well in Google when people are searching for your app. I created a very visual Facebook page with screen shots of the app, hero graphics and filled in all of the info tab section with app features and a brief description as well as the website address.
Before you can get your vanity URL, e.g. facebook.com/BriefBuddy. You have to have at least 25 fans. In the early stages it was tough to get that many fans! Sounds silly but you've just got to get all of your friends and even family to like the page and when you reach your 25 you can apply for your vanity URL.
Lastly make sure you don't update the wall with loads of useless stuff, people will get annoyed and maybe 'unlike'. In the initial pre-launch stages keep updates to a minimum with useful updates for your fans like new screen-shots, videos and other items to get them excited about the app.
Create And Publish A Video About Your App
Above and beyond just telling people about the app and its features, I knew I had to create something else -something special that people would make people stand up and take notice. In my lounge room with some mates I shot a video, edited it and uploaded to YouTube.
It was a spoof-style 30 second video that featured some bad acting, the name of the app and the app website address. I then proceeded to plaster the video everywhere, in press releases, on the Facebook page, on the official website, on the Android Market and also Tweets to my fans Twitter.
The video received some posts in the media, which was great. It also gave the bloggers something to feature with the story as an added bit of extra content. The video received a modest amount of views, but in a round about way it did drive traffic to the website and eventually sales of the app. It was one of the things I did that gave the app a bit of 'street cred' I believe.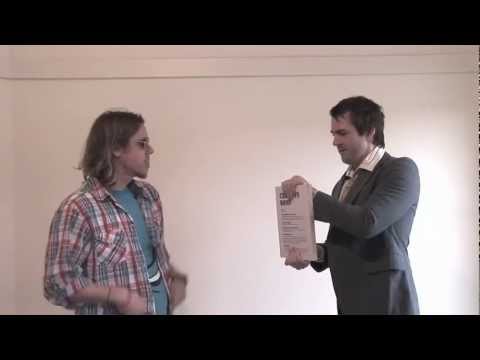 Phase 2: Post-launch Marketing
Create And Post A Press Kit On-line
Creating a press kit can feel a little tedious, and it is but it's one of those official things you do and you will need these assets.
My press kit consists of a number of screen shots of the app showing it's key screens and a written PDF press release. I created a page off my website and hosted all of the assets there, they way journalists can just grab whatever assets they want.
Here is an example of what I have online for my press kit: briefbuddy.com/media.
Tweet The Launch Announcement And App Store Links To Followers
One of the most fun tweets you will do, the app is now available and they can grab it at the app stores.
Make sure you get the URL's right! It may sound silly but you have to make sure you get the correct web addresses direct from iTunes and Android Market, no mistakes here otherwise it will cost you sales.
A lovely result of this was that my followers were re-tweeting my launch Tweets, they were making the launch announcement too!
Send Launch E-mail To Your Subscribers
Once you've got all of your list of subscribers together from the coming soon website you're ready to go with your launch email. Get together a really simple clear email to send out, I used Mail Chimp, which is fantastic and it's free with plenty of templates.
In the body of the EDM have hero images of your app, screenshots as well as a brief description of the app and it's key features. The most important things are big, obvious links to the App Stores.
I found this to be a really great way to launch the app, you can't really lose sending out and EDM to the people who first registered their interest in your app in the first place. I could measure people opening the email and I got about a 80% open rate which was great.
Send Press Releases To Bloggers
Writing to your target audiences' blogs is another really powerful method of driving sales of your app, do not underestimate the media. I wrote to over 100 blogs that were relevant to my app, yes over 100. In the emails I included a free code that iTunes gives you to give out, you get 50 in total.
As well as the free code I gave a brief summary of the app, key features and even a little about myself. I also included a link to the 'media assets' for my app, which was a page where the blog owners could go and get image and press release assets to post with their story. A lot of the time the bloggers would simply take screenshots of the site, either way it is nice for them to have assets available for their story.
Out of the 100+ blogs I emailed about 5 took up the story. Even with the free codes the bloggers are reluctant to write about your app, but a very small percentage will and the results can really boost sales.
Getting my app featured on one of the major blogs was definitely a big boost for my app, it droves sales of the app in a big way. It was not easy and I was very persistent, the most important thing was to make sure the story was easy as possible to feature on their site, pictures, links etc and of course be very accommodating if they ask for anything specific in regards to publishing your story.
Update Your Facebook Page With App Store Links
Now that your app is available in the store it's time to change up your Facebook presence. I Updated my Facebook presence facebook.com/briefbuddy with a landing page featuring all of the final screen-shots of the app as well as two big buttons to click through to the store and buy the app.
I also posted the update to all of my fans via the wall, at that stage I think I had about 100 or so. Oddly not a lot of people took to posting anything on the wall, but I could measure the amount of impressions and there were a lot, so people were checking out the Facebook page, and in turn clicking on the app store links.
Call On Favor Tweets From Friends With Large Followings
You may have friends who have a big Twitter following, I got in touch with industry friends and asked a small favor of them. They Tweeted the release of my app with the website address, in return I gave them a free app code from iTunes. Obviously the more followers they have the better.
It was hard to measure this method, but I know it did push some sales and awareness as with most social media, the message was re-Tweeted by some of friend's followers.
In conclusion
All in all I found the whole above process to be time consuming and hard work, but very rewarding.
Quiet simply the buzz I got from seeing the app sales figures rise, people posting, re-tweeting, commenting, and generally showing interest in my app was a huge highlight and is very addictive!
I have learned a hell of a lot and I will use all of this knowledge and experience to my advantage when I'm launching my next big thing. Good luck.
Guest post written by Craig Barber, a creative entrepreneur who has been an active member of the creative and marketing industry for over 11 years, he is the author, creator and marketer of the number one selling reference app Brief Buddy . You can contact Craig via [email protected] or follow him on Twitter @craigjbarber.