Singularity: A Brand New Category On ViralBlog.com
In our new category Singularity you will get unlimited inspiration and insights on how singularity will change the world, and billions of lives.
In a fixed format we will explore singularity areas such as: biotechnology & bioinformatics, energy & environmental systems, networks & computing systems, AI & robotics, medicine & neuroscience, and nanotechnology.
We will also inspire you with singularity examples, videos, presentations, vision of futurists, books events and more.
Why singularity?
Because we believe that singularity can solve the world's biggest challenges and change the lives of billions of people.
Now, that's a mindset. Right?
What is Singularity?
Singularity might be best explained as the hypothetical future creation of super intelligent machines. Super intelligence is defined as a technologically-created cognitive capacity far beyond that possible for humans.
Should the singularity occur, technology will advance beyond our ability to foresee or control its outcomes and the world will be transformed beyond recognition by the application of super intelligence to humans and/or human problems, including poverty, disease and mortality.
Revolutions in genetics, nanotechnology and robotics (GNR) in the first half of the 21st century are expected to lay the foundation for the Singularity.
According to Singularity theory, super intelligence will be developed by self-directed computers and will increase exponentially rather than incrementally.
Proposed mechanisms for adding super intelligence to humans include brain-computer interfaces, biological alteration of the brain, artificial intelligence (AI) brain implants and genetic engineering.
Post-singularity, humanity and the world would be quite different. A human could potentially scan his consciousness into a computer and live eternally in virtual reality or as a sentient robot.
Futurist Ray Kurzweil On Singularity
Futurists such as Ray Kurzweil (author of The Singularity is Near) have predicted that in a post-Singularity world, humans would typically live much of the time in virtual reality — which would be virtually indistinguishable from normal reality.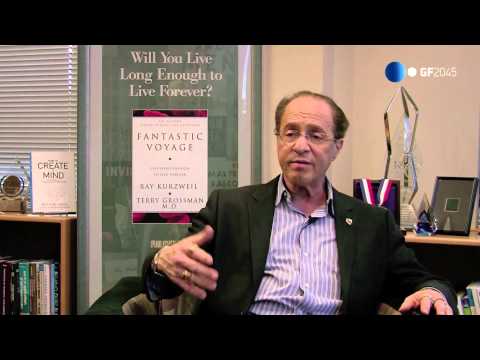 Kurzweil predicts, based on mathematical calculations of exponential technological development, that the Singularity will come to pass by 2045.
Watch the video, you will love it.
Ray's book? Also very visionary.
Singularity: Science-Fiction or Reality?
Science-fiction writer Vernor Vinge first used the term the Singularity in this context in the 1980s.
He used it in reference to the British mathematician I.J. Good's concept of an "intelligence explosion" brought about by the advent of super intelligent machines.
The term is borrowed from physics; in that context a singularity is a point where the known physical laws cease to apply.
The Six Million Dollar Man
To make it more tangible for you (and revealing my age), do you remember the Six Million Dollar Man?
The Six Million Dollar Man was an American TV series about a former astronaut with bionic implants working for a fictional government office known as OSI.
The series is based on the novel Cyborg by Martin Caidin, and during pre-production, that was its proposed title.
Following three television movies aired in 1973, The Six Million Dollar Man aired on the ABC network as a regular series for five seasons from 1974 to 1978.
The title role of Steve Austin was played by Lee Majors, who subsequently became a pop culture icon of the 1970s.
That was my favorite TV series when I was a little boy. It might explain my passion for singularity?
But science-fiction has now become reality. So stay tuned!
Get more insights and events at the Singularity University.
What About You?
What do you hope and expect from singularity? What are great sources for you? Share your ideas in the comments.
Follow & Share
Want more stories on breaking with the status quo? Browse our category Trends & Innovations, join us on Twitter, LinkedIn, Facebook, Pinterest, RSS and get our weekly E-mail Newsletter for updates and free bonus content.
About the Author
Igor Beuker was CMO at 3 listed companies, chairman at the IAB, jury member at Webby, AMMA and Esprix awards, founder of 3 digital agencies (sold to WPP) and global chief social officer at Mindshare. Now he is freejack consultant and still a sought after keynote speaker.