How Disruption & Content Will Save TomTom?
A few years ago TomTom was a big hit on the NYSE Euronext Amsterdam. But the rapid growth of smartphones and tablets with navigation caused an inevitable nosedive of the TomTom stock price.
In this story you will get the insights on how former hardware company TomTom made a disruptive bold move to change its business model, and is now leveraging its content across mobile Apps and Apple devices.
Strategic Moves by TomTom
TomTom made a bold move a few years ago. It acquired the maps of TeleAtlas. Maybe TomTom paid too much, but it looks like a smart strategic move in the long run.
Strategic moves that we have seen at Amazon.com so often.
Up-to-date maps are becoming of vital importance since smartphones are getting more advanced GEO locations. And with its up-to-date maps, TomTom is leveraging its content in the companies' battle against Nokia's Navteq and Google Maps.
Today, digital maps are hotter than ever before. Mainly due to the fact that accurate GEO locations have become very important for several kinds of services on the fast growing number of smartphones and tablets.
The accurate location of the smartphone user is becoming the epic center of many mobile consumer journeys. GEO location info is helping to get consumers closer to local retail stores, and helping to get them to get into these stores to buy stuff.
I have worked at location service Scoot from 1997 until 1999: Scoot was local search via web and a free 0800 phone number. Via Scoot, consumers could detect i.e. the nearest fitness center of flower shop fast.
Google Maps & GEO
Of course Google is matching consumers' local needs with Google Maps. And to close the loop Google is not only bringing consumers with an instant buying need into local stores, the search giant is also offering consumers in-store mobile payments.
The free Google Maps seemed to have achieved a monopoly on smartphones. But recently Google started to charge some mapping services that it offered for free before. And that move brought some density into the mapping and navigation market.
That Google Maps would be losing market share would have been predicted by no sane soul on earth. Google's digital maps were free, and could easily be extended with extra information layers.
Google also offered APIs that simplified the integration of all kind of handy applications, for both the internet as well as the mobile web.
Where TomTom charged users for mapping and navigation software, Google's strategy aimed for free tools. Like most software companies use the grow big fast strategy fuelled by free services, to later introduce (or switch to) a premium service.
Google made its strategic business move in January 2012. Bulk users pay a usage fee since that date. If Google's maps are being watched over 25.000 times a day on websites or apps, than the provider needs to pay a fee to Google.
Google soon after mentioned that only 4.000 of the 1 million+ sites and apps that were using these services, was now paying the usage fee to Google.
But nevertheless, some of the bulk users – like Geochaning.com and Foursquare – pushed out Google Maps. They didn't want to pay the fee themselves and refused to charge their user bases.
So Google is still a mapping giant, but other players will try to increase their mapping market share.
Nokia and its bold moves
Haven't we seen such a bold moves at Nokia decades ago?!
The company switched from rubber products (boots and tires) to ITT Nokia TV's in 1998. And a decade later, Nokia showed another bold move to Nokia mobile phones. Maybe it's time for another big shift of Nokia's core business?
Nokia now has a strong mapping position with Navteq.
The Route of Rookie Waze?
Newcomer Waze from Israel is using the power of the crowd to gain its market share. It is creating community-based traffic and navigation tools, based on a collection of aggregated GPS signals, which smartphones frequently send out.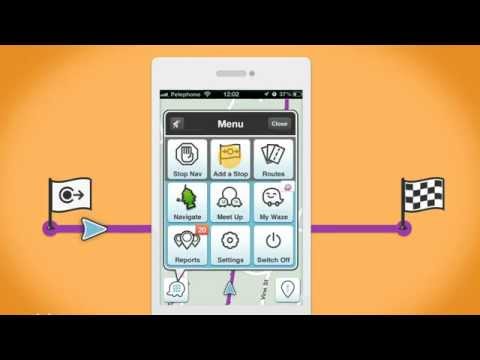 This way Waze is trying to differentiate itself from the traditional GPS navigation software companies, mainly by tapping into the community of smartphone users and due to the fact that its application is learning from travel times of the collected users.
The community of commuters' data is automatically changing the positions.
Big-data? May the math be with Waze.
Partnership TomTom and Apple
To optimize the use of GEO locations on smartphones, accurate maps are crucial. The recently announced partnership between TomTom and Apple, gave the TomTom stock price the boost it needed so badly.
In this partnership TomTom will deliver its maps and related services to Apple iOS 6 for iPhone and iPad. From that moment, Apple will let go of Google, which has been the supplier of map- and navigation software on Apple phones.
For TomTom this newly created opportunity is ticket into a new proposition as producer of mapping content and software. End of 2011 TomTom had to let go of 457 employees and dark clouds were coming its way.
It is a great opportunity for TomTom to re-invent and refresh itself. This time not as hardware provider but as producer of map related content and software. It might be a smart move, since the market for single navigation devices is declining by the day.
My opinion?
TomTom is refreshing and re-inventing itself. And in the long term the TomTom stock could be on the rise again. The TeleAtlas acquisition in 2007 seems to be a bold and smart move that might fuel a brighter future for the company.
The partnership with Apple has certainly given investors, analysts and consumers new faith in the company.
To me more important is that TomTom founder Harold Goddijn – who made a fortune after the IPO – is still leading the company. In a recent interview he even stated that working at TomTom is more exciting and challenging than ever before.
And like most founders are the heart and soul of their companies, I am conviced that Goddijn is dedicated to lead his "new" TomTom the way in its path to profit 2.0
Mobile the next gateway to connect fans to brands
So to break through conventions, non-linear and disruptive thinking do help a lot. Marketing used to be an art, now it's becoming a science.
Schematic tech savvy thinkers in marketing might have the future? Hopefully some CMOs will get inspired by Tom Toms new and profitable path towards innovation?
New mobile GEO apps enable consumers to see which of their Facebook or Foursquare friends have been to local restaurants in their neighbourhood and see the ratings and recommendations of their peers.
Many CMOs have already discovered that mobile is the next gateway to content, communities, brands, friends and commerce. And many will follow soon.
And other CMOs will soon discover that Mobile is not just another silo or channel to reach consumers on with banners.
Mobile could be the next layer around brands, to extend and deepen relations with their customers. Or establish new relations.
And brands that are able to structure their copmany processes ready for Mobile, will certainly not have 'trouble with the curve'.

What About You?
How do you like Tom Tom's bold and strategic move? Who will win the mobile battle or the battle of the maps?
Follow & Share
Want more stories on breaking with the status quo? Browse our category Remarkable & Gossip, follow Igor Beuker on Twitter, grab our RSS Feed, join our Facebook movement or subscribe to our weekly e-mail newsletter.
About the Author
Igor Beuker was CMO at 3 listed companies, chairman at the IAB, jury member at Webby, AMMA and Esprix awards, founder of 3 digital agencies (sold to WPP) and global chief social officer at Mindshare. Now he is 'freejack' consultant and a sought after keynote speaker.