Energy Noodles: Testosterone Promo Video With Happy Ending
Today the manufacturers from Boss Noodles launched their latest innovation called Energy Noodles, a hilarious promo video with happy ending.
The groundbreaking noodle snack was produced in a brand new plant (with excellent working conditions), located just downstream from the Viagra factory in the Do Ping province in China.
Just on time for this summer's major sports events, Energy Noodles promises to deliver totally legal competitive advantage with rock-hard side effects to sportsmen and businessmen alike.
Ready for explosive squirts and happy endings?
Energy Noodles: Hilarious Video With Happy Ending?
Energy Noodles launches with a testosterone-filled advertising film, with happy ending. The video features the Athletic Cycling Team who, have been competitively engineering their urine samples for participation in this years already legendary Tour de France.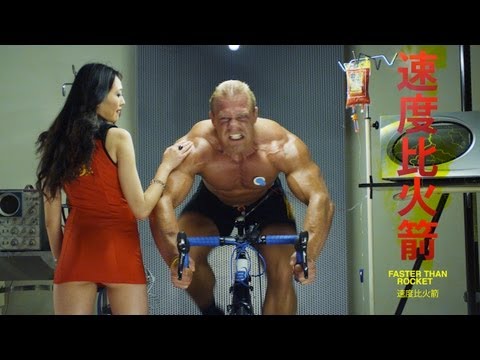 "Beating the super strict urine and blood tests around the world have been our nr.1 challenge and we feel confident that we will pass the test in at least 9 countries" says Italian team leader dr. Frederico Lamborghini.
To support the campaign a state of the art flash website EnergyNoodles.com was developed where you will find inspiration and innovation.
My Opinion?
Sometimes a brand goes fully overboard in its attempt to earn global attention.
Energy Noodles was in control enough to let go. Clever, witty and with guts.
The video could go viral and become a limitless long tail viral hit video.
Their ROI? Earning global attention, AIDA, NPS and "TOMA-ness".
This campaign reminds me of old skool virals starring Terry Tate by Reebok, Trojan Games by Trojan Condoms or the 100 Meter Porn by Freeware.de
What About You?
How do you rate the Energy Noodles video? How about Terry, Trojan or Freeware? Share your thoughts in the comments below.
Follow & Share
Want more stories on breaking with the status quo? Browse our category Viral & Social Video, join us on Twitter, LinkedIn, Facebook, Pinterest, RSS and get our weekly E-mail Newsletter for updates and free bonus content.
About the Author
Igor Beuker was CMO at 3 listed companies, chairmain at the IAB, jury member at Webby, AMMA and Esprix awards, founder of 2 agencies (sold to WPP) and Global Chief Social Officer at Mindshare. Now he is 'freejack' consultant and still a sought after keynote speaker.