Why The Future Of Online Is Catvertising?
The advertising industry seems to re-invent itself. Advertising agencies will keep coining new buzz words and trends. Have you seen the future of online Catvertising?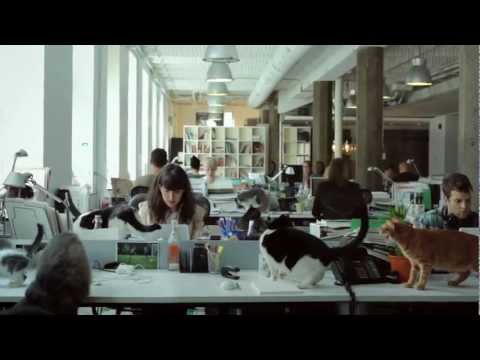 To stay on top of the ever-changing advertising landscape, john st. has opened the world's first cat video division. With production, filming and seeding all in-house. Ask yourself, what can cat videos do for your business?
It's a bunch off bullshit off course. But our ViralBlog editorial studio got a dozen of e-mails last week to write about these videos.
And indeed above video was uploaded on Nov 10 2011 and did over 100,000 views. However, our readers told us: john st. is not the first Catvertising video.
Kittywood Studios already launched its cat videos 3 months ago.
The Kittywood video was watched over 500,000 times.
My Opinion?
Honestly, I do not have a clue why our industry creates these videos. Maybe because online advertising all started with being one mouse-click away?
So "forced" by our readers, we had to share these videos with you.
What About You?
How did you like the catvertising agency? How many silly viral cat videos have you watched on YouTube so far? I'd love to read your feedback in the comments below.
Follow & Share
Up for more great videos? Select our flagship format Viral Friday, follow Igor Beuker on Twitter, grab our RSS Feed or join our Facebook movement.